Webmaster's Commentary: The following passage is found in George Washington by Shelby Little - New York: Minton, Balch & Company, 1929. Page 99. In this book, the author writes about what Washington wrote in his personal diary; unfortunately, we do not have the exact writing in Washington's own words The fireworks celebrating the anniversary of the Burning of the Gaspee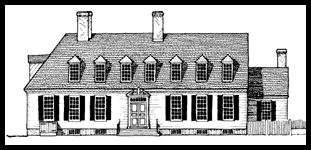 apparently took place near Williamsburg, VA on June 11th, 1774, 'the Raleigh' referring to the name of a tavern (restaurant) in Williamsburg, not the City of Raleigh, NC. This Raleigh Tavern was the site of gathering for many famous Sons of Liberty in the PreRevolutionary era, including Richard Henry Lee, Thomas Jefferson, and George Washington.

Right: The Raleigh Tavern, Williamsburg, VA

The importance of all this, is that in Virginia, the first state to reestablish the Committees of Correspondence in reaction to the Gaspee Affair, also celebrated its importance in starting the united colonies on a path towards independence. Such a celebration would have been....unwise in Rhode Island at the time. Any talk leading to the identification of those who took part in the Burning of the Gaspee would have still possibly led to the demise by hanging of those so identified.
(June 1774)
Through all the growing agitation, Washington moved quietly, unobtrusively, thoughtfully. His actions might have been a little puzzling if any one had been calm enough to notice. At the dwindling meetings of the dissolved Burgesses, he was always to be observed paying earnest attention; he visited his plantation and farms in the vicinity of Williamsburg and once he took a gay party of friends by water to look at Woromonroke plantation; on June 1st, he went to church with the rest of the town and was strict in his observance of the fast; ten days later, he spent 3s.9d. to see the fireworks in celebration of the anniversary of the burning of the Gaspee; and just before leaving for Mount Vernon, he dined again with the Royal Governor of Virginia. He may have believed that this, like other disputes with England, would blow over. The situation was anything but clear. And even in his reckless youth, when he had so often moved by impulse, he had not been one to burn his bridges until he was sure he was through with them.
From:
The Diaries of George Washington
. Vol. 3. Donald Jackson, ed.; Dorothy Twohig, assoc. ed. The Papers of George Washington. Charlottesville: University Press of Virginia, 1978. Page 255 available on-line at:
http://memory.loc.gov/ammem/gwhtml/gwhome.html
(June, 1774)
Dined at the Raleigh & went to the fire works.
Fireworks were occasionally used to celebrate a public event, as in the "elegant set of fireworks . . . displayed in this city [Williamsburg] on the arrival of . . . Lady Dunmore" (
Virginia. Gazette
, R, 10 Mar. 1774; CARSON [2], 200203). They may also have been to commemorate the second anniversary of the burning of the British revenue cutter Gaspee.