Biographical Notes:


An interesting personality sketch of Ephraim Bowen, by one who knew him appears here at: http://gaspee.org/Slocum.html . From this sketch, we know he was referred to as Colonel Bowen, and that he was wealthy, presumably from his rum distillery located in Pawtuxet Village.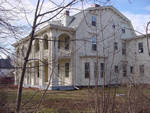 Left: The Bowen Mansion at 130 Fair Street in Warwick was built in 1799. Local historian Hazel Kennedy, quotes Ephraim Bowen as saying, "I wanted this location because from the third floor I could see Namquit Point where we burned the Gaspee." The original front door to the house overlooked Pawtuxet Cove, but with many renovations and additions, has now been converted into a multiple apartment complex.

Colonel Bowen's still house, originally on Pawtuxet Neck, has been moved and converted into a residential dwelling as well, and still (sic) exists at 37 North Fair Street in Warwick (see: http://www.pawtuxet.com/historichomes.htm)
From Google search on the term Ephraim Bowen" we get a wealth of information not otherwise present on the Gaspee Virtual Archives. First of all, there were other Ephraim Bowens coincident with ours out of both Virginia and Alabama, and who also may have served in the Revolutionary War.
From a limited Ancestry.com search on the American Biographical Library The Biographical Cyclopædia of American Women. Volume II: Historical Register of Officers of the Continental Army During the War of the Revolution; Alphabetical List of Officers of the Continental Army, page 112:
Bowen, Ephraim (R. I.). 1st Lieutenant 2d Rhode Island Regiment, 3d May to December, 1775; Captain 11th Continental Infantry, 1st January, 1776; Assistant Quartermaster General, 14th September, 1776, to 1st January, 1777; served subsequently as Deputy Quartermaster General and as Quartermaster General Rhode Island Militia to close of war.
From his 1833 pension records (S46643), we find that Ephraim Bowen entered service as a Lieutenant in Capt. Christopher Olney's Company of Col. Daniel Hitchcock's Regiment, in which he was stationed at Roxbury and Prospect Hill near Boston.

From Kingston, MA <http://kingstonuu.org/history/ships-commerce2.html> (link stale 2006) comes the following:
The battles of Concord and Lexington in April of 1775 and Bunker Hill, so called, in June of 1775, marked the official opening of the Revolution for the history books – but neither the British nor the colonists were ready for full-scale war. Boston was under siege, occupied by upwards of 6,000 British troops. General George Washington, who had taken charge of the colonial army surrounding Boston in July, was frustrated by the ease with which the British ran supplies into Boston by sea. He decided to try authorizing an armed vessel to interrupt the British shipping; the 78 ton schooner Hannah was rented at "one Dollar pr Ton per Month" from John Glover of Marblehead and became the first vessel in George Washington's navy, which eventually had eight vessels, including two from Plymouth Bay. Five of the eight vessels were already in service to Washington by the time Lieutenant Ephraim Bowen came to Kingston on October 15, 1775, to see Captain Daniel Adams about his 64 ton schooner, Triton.

The reference above is generally confirmed with a notation from Our French Allies by Edwin Martin Stone (1881) p150, in a footnote biography of Col. Bowen. It shows that he was involved in acquiring war materiel from an early point in his military career, and is consistent with someone who would later be appointed Deputy Quartermaster General.

In January 1776 he was promoted to Captain where he served at the battle of Long Island, NY and was evacuated with the rest of his troops to Harlem, NY. While here he was ordered to Kingsbridge, NY where he was attached as assistant to the Quartermaster General of Washington's army, a Colonel Mayland, and subsequently General Miflin through the relocation to Morristown, NJ. He then returned to Rhode Island as Assistant Quartermaster in 1777. He continued to serve under subsequent Quartermasters General, including Nathanael Greene, Col. Pickering, and Benjamin Bourne. By June 1778, Bowen was appointed by General Nathanael Greene as Deputy Quartermaster General of the Continental Army for Rhode Island, with the associated rank of Colonel in which capacity he served for the remainder of the war. His commission shows that he was paid $75 per month plus rations, and was allowed a

1% commission on purchases

. This likely afforded a fairly comfortable lifestyle within the confines of his home State during (and after) the Revolutionary War, albeit a position with heavy responsibilities including paying any local debts owed by the French fleet of Admiral D'Estaing. In 1780 he presented receipts for £484,505 for which that 1% commission would have totaled the princely sum of £4,845, but probably paid in greatly deflated currency. In 1782 he was 'elected' Quartermaster General of the Rhode Island Militia through 1784, and continued attention to claims to the Quartermaster General through October 1787.

As Stone (1881) points out,

This position (Quartermaster General) was one of incessant care and anxiety. To provide for the wants of the army, horses, forage, clothing, ammunition and fuel; to manage the finances of his department with a fluctu­ating currency, and to meet and answer all the demands upon his time and resources, re­quired a quick perception of his relation to the army, a ready forecast of coming wants, a calm, administrative mind, and a sound Judgment. But he appears to have been equal to the requirements of his office, the duties of which he discharged with great fidelity until the close of the war.

Maj. John Dexter, who had served with Bowen in the early years of the Revolution, described Bowen as a "brave, vigilant, discrete, and attentive officer."


More Rehoboth connections! at: http://www.angelfire.com/ri/reaspage/revwar.html
From the list of the six months men raised to reinforce the Continental Army, in the year 1780, we have the following list of names from Rehoboth. They marched to West Point and served under Continental Officers.
IN THE 32d DIVISION: Thomas Campbell, Cato Hunt (nigro), David (nigro), Obadiah Bowen, Spencer Bears, John Hewley, John Mc Lane, Ephraim Bowen, Thomas Carpenter, 2d.
From: Revolutionary War records held by the US Army published in

: Supplying Washington's Army

by Erna Risch (Center for Military History,: Washington, DC, 1981).on-line at: http://www.army.mil/cmh-pg/books/RevWar/risch/chpt-2.htm we get good stuff.
Other states also were well supplied with Quartermaster personnel. Greene appointed Nehemiah Hubbard deputy quartermaster general in Connecticut. Hubbard had received his training in the store and ships of Jeremiah Wadsworth's uncle, and he was closely associated with Wadsworth in procurement activities throughout the war. His office at Hartford included an assistant, a clerk, a deputy wagonmaster general, an express rider, two carpenters, a conductor of teams, and eighteen teamsters. In addition, he had assistants at Fairfield, Litchfield, Norwich, Sharon, and Windham. His personnel totaled forty-one. Ephraim Bowen, deputy quartermaster general for Rhode Island, was a member of a prominent mercantile family of that state. He maintained his office at Providence and employed assistant deputy quartermasters general at six other towns in the state, together with a deputy wagonmaster general, wagonmasters, storekeepers, artificers, and clerks.52

http://www.army.mil/cmh-pg/books/RevWar/risch/chpt-4.htm
Purchasing agents continued to be paid a 2 ½ percent commission on purchases. For the most part, these purchasers were also deputy quartermasters general in the Quartermaster's Department. They made their purchases within a military department, as Deputy Quartermaster General Morgan Lewis did in the Northern Department; or within a state, as Deputy Quartermasters General Ephraim Bowen and William Finnie did in Rhode Island and Virginia, respectively; or within a particular area, as Deputy Quartermaster General William Smith did at Springfield, Massachusetts, and for thirty miles to the east. Pennsylvania was divided into six areas, in five of which forage was purchased by deputy quartermasters general.29 In those few instances where purchasing agents were not deputy quartermasters general, they nonetheless were paid at the same rate of commission as the deputies.30 Biddle appointed his brother Owen Biddle as his deputy or agent at Philadelphia; the latter was to purchase forage for that city, direct all purchases west of Delaware, and forward forage to Trenton.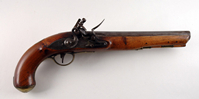 Left: Col. Bowen carried this flintlock pistol during the Revolutionary War. Courtesy Rhode Island Historical Society, RXiX171185Ax.

Our Ephraim Bowen was apparently assigned to the Forage Department and was Deputy Quartermaster General, in charge of supplying US troops with needed provisions and logistical support. That's not to say his military rank was a General, though. It does give some clue as to how Ephraim Bowen gained his fortune, however. A person that achieved the position of Deputy Quartermaster General would have built up many important business connections, and been privy to inside information on impending large purchases; this was (and is), after all, Rhode Island. His personal influence within the state was probably very considerable. The RI Historical Society has a collection of some papers from Ephraim Bowen, mostly routine correspondence regarding his Quartermaster duties (

Bowen Family Papers MSS 301, Box 1, Folders 7-14

) . Our Ephraim Bowen (1753) is listed as pensioner of Revolutionary War service in Providence from 1840 records at: http://www.usgennet.org/usa/topic/colonial/census/1840/1840ri_al.html. We also note he was an original member of the Society of the Cincinnati, for the Revolutionary War officer veterans, and was for many years the vice-president its Rhode Island chapter. .

Like his father before him, Ephraim Bowen was appointed a Sheriff of Providence County in 1784 . From Political Graveyard files http://politicalgraveyard.com/bio/bowen.html we discover that
Bowen, Ephraim of Providence, Providence County, R.I. Presidential Elector for Rhode Island, 1812.
This could've been Ephraim Bowen of 1716 or 1753. Both were known to be politically active, but the elder Bowen died this same year in October 1812. In 1801 Bowen was elected to the State House of Representatives from Providence (possibly instead, Pawtuxet). In 1816 he was elected Chairman of the RI Federal Republican committee.

From

History of Providence County, Rhode Island

, by Richard M. Bayles, New York, 1891, page 552: it appears that Ephraim Bowen was one of the original incorporators, and the first president of the Union Bank & Trust, established in 1814. In 1815 he was appointed President of the Union Bank. We also found reference that Ephraim Bowen was Grand Master of the Rhode Island Lodge of Masons in the early 19th Century (as was his stepbrother Jabez): <http://www.rimasons.org/pgm/past_grand_masters_1791-1839.htm> (Link broken as of 2005). In 1824 Bowen was appointed by the Providence town council to a group welcoming the Marquis de Lafayette in Plainfield, CT as a 'guest of the nation'.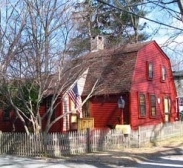 Left:

Ephraim Bowen Stillhouse (c1720) now located at 37 North Fair Street in Warwick, now converted to a residence.

As we have noted previously, Ephraim Bowen was heavily involved in distilling rum on a commercial scale. His large Pawtuxet gin distillery was destroyed by a fire in July of 1818 at a loss of over $7,000 according to the

Providence Patriot and Columbian Phenix

. In the latter 18th century there were some 30 to 90 distilleries operating in Rhode Island. Gladys W. Brayton (

The Bridge

, Newsletter of the Pawtuxet Village Association, 14:2, Summer 1987, p9.) related that Bowen's Distillery was located on Pawtuxet Neck, just north of the entrance to Pawtuxet Cove, and had a stone wharf to receive the shipments of molasses. Most of these firms distilled molasses into rum. Thus, Pawtuxet was one point of the infamous triangular trade, that is rum for slaves for molasses for rum.

Now here's something exciting...another of those damn unexplainable Upstate NY connections at: http://www.innsite.com/inns/A000732.html
What Cheer Hall was the Newport village home built by Benjamin Bowen who came from Rhode Island with the financial backing of his brothers, Dr. William Bowen and Ephraim Bowen Esq. to establish a saw mill, a grist mill, a distillery, and the Newport Cotton Manufacturing Co. along the banks of the West Canada Creek using a dam and diversion canal.
This is Newport, New York, not Rhode Island, and is a town near Utica in upstate NY. The connection seems to be driven by locations along the Erie Canal which was being constructed in the early 19th century under the auspices of, of all people, John Brown's old apprentice Elkanah Watson (see JohnBrownRescue.htm). Of course, Ephraim Bowen could've have used his expertise in the stillery business in establishing these new enterprises with his brothers. The "Esq." is a nice touch. Was Ephraim a lawyer?...I doubt it, but he was obviously wealthy. Some of his wealth may also have come from his contacts with his sisters who married wealthy Providence merchants John Innes Clarke and Thomas Lloyd Halsey.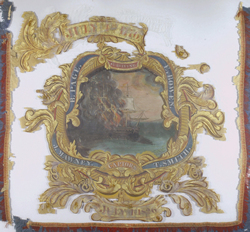 Right:

1826 parade banner depicting the burning of the Gaspee.

Surrounding the picture are the names of the four then 'surviving captors' that participated in the raid who were being celebrated: B. Page, E. Bowen, T. Smith, and J. Mawney. Courtesy of RI Historical Society RHiX17317.

Click image to enlarge.

According to the dates of his wills, Ephraim Bowen was residing in Warwick in 1820, but by the time of his final codicil in 1841 he was residing in Providence. According to census records on Ancestry.com, our Ephraim Bowen of 1753 moved from Warwick, Kent County back into Providence and lived at 24 Union Street sometime after 1830 before his death in 1841.
Genealogical Notes:



We can trace the ancestry of the Bowens back from Richard BOWEN of Rehoboth Descendants at http://www.ormsby.org/genie/Miscellaneous/Bowen.html

The following information is assimilated from genealogy files at the LDS (http://familysearch.org) and the Gendex (http://gendex.com), Ancestry.com and the Whipple.org websites. A good source referenced is: French Settlements in Rhode Island by Elisha R. Potter for further descendancy information.

Our Ephraim Bowen's (1753) father was also named Ephraim Bowen (b1716) and his mother's name was Lydia Mawney, daughter of Colonel Peter Mawney and Mary Tillinghast. Fellow Gaspee Raider John Mawney was the son of Lydia's brother John Mawney, see http://www.gencircles.com/users/joanolsson/1/data/11678 , or in other words, John Mawney was the first cousin to the first wife of Ephraim Bowen (1753). But wait! This gets better....Lydia's brother John Mawney married an Amey Gibbs in 1745 who just so happened to be the daughter of Robert Gibbs and Amey Whipple, daughter of Colonel Joseph Whipple. This John Mawney and Amey Gibbs had a child, John Mawney, who was the Gaspee raider.

The elder Ephraim Bowen (1716), was born in 3 Oct 1716 in either Providence, RI or Rehoboth, MA to Thomas Bowen and Sarah (Hunt) Bowen, and died 21 Oct 1812. He was married first to a Mary Fenner (daughter of Thomas Fenner and Mary Abbott) on 09 Feb 1737 when both were about 25. There are two children known of this marriage,
Dep. Gov. Jabez Bowen, 1739-1815 m Sarah Brown
Commodore Oliver Bowen born 17 Nov 1742 m unknown, died Augusta, GA 1800, and who "served with honor in the Revolution", has offspring Oliver Bowen, Jr,

According to the RI Historical Cemeteries Database,
BOWEN, MARY (FENNER*) 1720c - 16 AUG 1744 PV003 (Swan Point Cemetery, Providence)
BOWEN, MARY 1744 - 23 AUG 1744 PV003

So it can logically be assumed form the above information that Ephraim Bowen's (1716) first wife, Mary Fenner Bowen, died as the result of complications giving birth to their third child, Mary Bowen, who died one week later. From a medical point of view this unfortunate happening probably occurred as a result of childbirth associated infections in both mother and child, no antibiotics being available during that period of time. Mary Fenner Bowen was buried in Providence's Swan Point Cemetery, later to be joined by her husband and his second wife.

There is some importance of Jabez Bowen, the older stepbrother of our Ephraim Bowen (1753). Jabez Bowen graduated Yale in 1757, achieved the rank of Colonel in the First Regiment of Providence County militia in 1776-1777. He went on to become a lawyer and Chief Justice of the Supreme Court of RI in 1781; Deputy Governor of RI, a member of the National Constitutional Convention, and chancellor of Brown University, (see Americans of Royal Descent, Charles H. Browning, p. 464.) And the "Papers of George Washington" site at <http://gwpapers.virginia.edu/constitution/1787/bowen.html> (link stale 2006) shows a letter from GW himself to Jabez Bowen (1739-1815), who they say was Deputy Governor between 1778-1786. Possible descendant Terry Bowen relates an interesting anecdote: "Story goes that he and the R.I. governor walked all the way to New York City where the Constitutional Convention was being mounted. On the journey the two would meet locals along the way and talk up the Constitution and that historical event."


This Jabez Bowen married a Sarah Brown, born in 1742, and who happened to be the daughter of Obadiah Brown, the famous mercantile uncle of John, Nicholas, and Moses Brown. Other sources (The Political Graveyard) say that the Deputy Governor was the Jabez Bowen born in Rehoboth in 1701, but we believe this to be in error. This erroneous Jabez Bowen (b 1701) married a Joannah Salisbury according to Herkimer County NY records (see http://www.gencircles.com/users/kencalman/1/data/360), but this would be a distant relation to Ephraim Bowen. In side thinking, the Jabez Bowen born in 1739, and who was an older stepbrother of Ephraim Bowen (1753) is a prime candidate to have been an undocumented attacker of the Gaspee. We'll have to research that one deeper.

Ephraim Bowen (1716) subsequently married Lydia Mawney (1723-1801) on 10 Jun 1746, both being about 30. Children of the marriage of Dr. Ephraim Bowen and Lydia Mawney included:
Dr. William Bowen c1746-1832 m, Susan Corlis (c1746) in 1769 in RI, prominent physician

Mary Bowen b1748 unmarried, died before 1806

Sarah Bowen b1750 d. before 1806; m Thomas Lloyd HALSEY who later was a shipping magnate.

Lydia Bowen (1752-1830) m in RI 1773 John Innes CLARKE (c1745-1808) , local shipping magnate of Clarke & Nightengale, slave trader, and officer in the Revolution.

Ephraim Bowen (II) b 1753 This is our Gaspee raider
Benjamin Bowen (1755 - 1759) age 4
Dr. Pardon Bowen b1757-1826 prominent physician, m Elizabeth Ward (1759-1847)
Benjamin Bowen (1759-1824, went to Newport NY and established a stillery there., died in Tennessee

Nancy Bowen b1762, d. before 1806 m in 1792 to Edward Mitchell, esq of SC

Elizabeth, aka Betsey or Eliza) Bowen b1765; married John Ward (1762-1823), merchant in 1792 in RI, son of RI Governor Samuel Ward from Newport.
Francis (Fanny) Bowen b1768; married John E. Moore of South Carolina.

This list completes the 13 children supposedly sired by Dr. Ephraim Bowen of 1716 with his two wives.

Lydia (Mawney) Bowen, the second wife of Ephraim Bowen (1716) is buried in Swan Point Cemetery (PV003) in Providence as is her husband.
BOWEN, LYDIA (MAWNEY (COL.)*) 1723c - 18 DEC 1801 PV003
BOWEN, EPHRAIM 1716 - 21 OCT 1812 PV003

Our Ephraim Bowen (1753) was born of this couple on 29 August 1753 in Providence, RI. He died 02 September 1841 at the age of 88 and, as stated above, he was the last surviving member of the crew that burnt the

Gaspee

when he was only 18 years old.

---
In 1776 our Ephraim Bowen (1753) married Sarah (possibly referred to as Sally) Angell (1757-1788 ), daughter of Nathan and Abigail Angell, and granddaughter (or niece--there are conflicting claims in

Genealogy of the Descendants of Thomas Angell

, Avery Angell, 1972) of Commodore Esek Hopkins. Ephraim Bowen and Sally Angell had the following children:
Rev. William Bradford BOWEN 1777-1826 in NY, lived in Cuba

Julia BOWEN b: 1779 m John D. Martin, merchant of NY in 1803, died in 1805

Nathaniel BOWEN b:1781 - 14Mar1786 Age 5 PV011
Sally Angel BOWEN b:1783-18 MAR 1786 Age 3 PV011
Hester (or Esther) BOWEN b1785 d1795 age 10
Elizabeth BOWEN b: 1787; m. Hon. John H. Clarke, B. U. May 1811, in Suffield, CT, who afterwards was a US Senator

Note that Nathaniel, 6, and Sally, 2, died within 4 days of each other, probably in an epidemic of diptheria, smallpox or flu. After the death of his first wife in 1788 Ephraim subsequently married in 1794 a Sarah

Whipple

(1773-1844), they had the following children:
Esther BOWEN b1797 died young PV011
George Thomas BOWEN b 1803 Grad. Yale, Prof of Chemistry at Nashville University

Sarah BOWEN 1812-1834 (or 1844) in RI PV011

Mary BOWEN b1815
Both of Ephraim's (1753) wives are buried with him at St. John's Cemetery off of Benefit Street in Providence.:
BOWEN, EPHRAIM 1753c - 2 SEP 1841 PV011
BOWEN, SALLY (ANGELL) 1759c - 15 MAR 1788 PV011
BOWEN, SARAH (WHIPPLE) 1773c - 27 SEP 1844 PV011

Note that the obituaries in 1788 for Ephraim's first wife named her Sarah Bowen, not Sally Bowen. We know from his Federal obituary that Ephraim Bowen of 1753 outlived his nine children (He may have had 10). His death received a national obituary notice as follows: <http://ftp.rootsweb.com/pub/usgenweb/md/statewide/vitals/Notices2.txt> (Link broken as of 2005)
BOWEN, Col. Ephraim Date: 09-02-1841
09-07-1841 - Nat'l Intelligencer - Obit Notice
BOWEN, Col. Ephraim, a soldier of the Revolution, and last surviving son of the late Dr. Ephraim BOWEN, who had 14 children, died in Providence, R. I., Sept. 2, 1841, in the 89th year of his age. He leaves a wife. They had 9 children, all of which are dead. (Sept. 7, 1841).
[Abstracts of Marriages and Deaths from National Intelligencer, 1841, Page 1283]

Bowen's widow, Sarah, continued to receive Ephraim's generous pension of $680 per year for his Revolutionary service until she died three years later. From the 1770 List of Providence taxpayers comes the observation that the following Bowens were happily habitating in the East Side of Providence:
Bowen , Benjamin
Bowen , Ephraim
Bowen , Isaac (not listed elsewhere): ?1740-1823 bRehoboth dProvidence, Prob not closely related
Bowen , Jabez
Bowen , Jabez, Dr.
Bowen , Oliver
Bowen , William, Dr.

The two homesteads of Dr. Jabez Bowen may be explained that one property was his house, the other his office, perhaps.

From USGenWeb, there were, according to the 1790 Federal Census at least 52 households in Rhode Island with the name of Bowen, so that family line had been well established by the Revolutionary period. There was also an Ephraim Bowen who served as a Sheriff of providence, and whose ads relating to escaped prisoners and indentuture of minors ran periodically in the Providence Gazette from 1764 This is most likely Dr. Ephraim Bowen, Sr. . It is curious that the 1790 census lists at least three incidences of person with the first name of Bowen, otherwise unheard of, perhaps in tribute to one of those who raided the Gaspee.

The only Ephraim Bowen listed in the Providence 1790 census lists could be any of the three buried here.
Bowen, Ephraim: 1-1-5-1-*, that is one white male over 16, one white male under 16, 5 females, one other freeperson (probably a paid servant), and no slaves.

Since we know that Dr. Bowen (1716) practiced medicine out of Providence, it is quite likely his household (see http://searches.rootsweb.com/cgi-bin/ifetch2?/u1/data/ri+index+1332120542+F about his house calls to Scituate). The family demographics listed probably includes grandchildren. We know our Ephraim Bowen (1753) conducted his stillery business in Pawtuxet, but his mansion there was not built until 1799, so it's still possible that he was head of that household in Providence.