Biographical Material: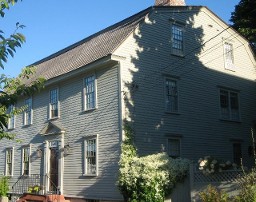 The following potpouri of newsclips are gleaned from Historical American Newpapers collection available through the portal at NEHGS.

Boston Evening Post

18Sept1752, Simeon Potter of Bristol, RI took out a block ad indicating he would soon sail for Europe and advising all concerned to settle accounts. Then, in the

Boston Evening Post

2October1752-10-02 he was advertising the ship

Hannah

, 200 tons to be sold. (Perhaps with his new found wealth from his

Prince Charles

cruise he decided to rid himself of unneeded burdens and tour Europe.)

Left: Simeon Potter House at 37 Marsh Street, Newport. While Potter is most associated with the town of Bristol, he had many residential and business real estate holdings throughout Rhode Island, including this house in Newport. The house here is now a bed & breakfast inn.



A much more sinister view of Simeon Potter is contained in

Howe, M. A. De Wolfe

Bristol, Rhode Island : T own Biography (Cambridge, Mass.: Harvard University Press, 1930). Potter was heavily involved with the slave trade both before and after the revolution. Daniel Vaughan, a Lieutenant aboard the

Prince Charles of Lorraine

testified that Potter took seven Indians and three negroes from the Jesuit missionery, and intimidated over 20 crewmen to leave the ship before collected their share of the profits from privateering, which Potter then pocketed. In 1761 Potter got into a spat with his pastor Rev. John Usher of St. Michael's Church, pushed him down in the street, was convicted of assault and fined £500. According to

Charles O. F.

Thompson in

Sketches of Old Bristol

(Providence: Roger Williams Press, 1942)

Potter was incensed after the Reverend had admonished the youg woman with who Potter had been having "criminal conversations". In the 1774 census of Bristol, it was noted that Simeon Potter was the household that held the most slaves, eleven.

The

Providence Gazette

15Dec1764 gave an account of the accidental drowning of one negro man owned by Simeon Potter. A Samuel Sweert, mariner from Newport, in ads taken out through newspapers in Newport, New York and Philadelphia during July 1773 accused Simeon Potter, Joseph Wanton, Jr. and others in RI of causing his false imprisonment in the Philadelphia gaol.. Apparently there was some legal action on this account that was submitted to binding arbitration. Curiously, he did not participate in any formal defense of his native country during the Revolution commensurate with his title as Major-General of Rhode Island Troops to which he had been appointed in 1776.




But Potter had his good points as well.

In 1763 he was named a Deputy (Representative to the Colonial Legislature) from Bristol, and in 1776 was an Assistant (Senator).

According to Thompson,

(pg 51)

"When the British bombarded the town of Bristol in October 1775, damaging Church, Meetinghouse, Courthouse, and private dwellings, it was Simeon Potter who hailed their flagship, when the firing was at its hottest, went on board, and opened the negotiations which substituted a tribute of forty sheep for further injury to the town." His house at Church and Hope Streets was later destroyed by the British and Hessian assault on the town in 1778. A

fter his house was burned down he removed to Swansea in Massachusetts, though some historians have speculated that this move was to avoid paying the high taxes in his native Bristol.

By 1779 he had moved to Gardiner's Neck in Swansea, lived on a grand estate (and kept a number of slaves.)

In 1784 Simeon Potter of Swansea was named a Representative to Massachusetts Legislature.

As he got older, he eventually rebuilt

a house on Thames Stree

in Bristol, RI, while still maintaining his Swansea estate.

In 1795 he gave a large parcel of land to Newport to support a free school for poor children, and i

n 1798 Simeon Potter and

Charles D'Wolf funded the

first public library in Bristol.



Simeon Potter was initially buried in Bristol Common but the gravesite was removed to the North Burial Ground as development encroached. Per the

Boston Gazette

of 21July1806 there was an advertizement of the estate sale of the real estate holdings of the late Simeon Potter including a Mansion House and 80 acres of land, a Dwelling House, stores, wharf, rope-walk, and another 23 acres.

His rope-walk bridge had been a source of considerable income to him.

The 1770 List of Providence Taxpayers tells us that there was property owned by Simeon Potter located on the East Side of Providence on South Main Street and Powers Lane. So, while Captain Simeon Potter lived and died in Bristol, his business interests caused him to also own land in the dockyard business area of Providence. Per the Newport Historical Society <http://www.newporthistorical.org/historic3.htm> Stale link 2006. Potter also had hodings in Newport.



Constructed around 1724, with enlargements made before 1749, the Simeon Potter House is an imposing Colonial Gambrel dwelling conspicuously situated on the corner of Marsh and Washington Streets, in the point section of Newport. Capt. Simeon Potter was a privateer and speculator who abandoned his loyalty to the crown and embraced the patriotic cause of the American Revolution while waiting out the war in Swansea. Troubled by Newport's impoverishment, he arranged to bequeth his house to the Trustees of Long Wharf to establish a free school for the poor children of Newport, thus creating the first public school in Rhode Island after his death.



The following tidbits have been stolen wholesale from the Joseph Bucklin Society website, and written by Leonard Bucklin (Hey, he steals from us--we steal from him--but all for a good cause):


Simon Potter. One participant in the Gaspee Affair was Simeon Potter. He was a Bristol, Rhode Island, seaman and merchant who was the captain of one of the attacking longboats. He had brought his own boatload of men from Bristol to meet the Providence boats.

Potter's Wealth. Potter's wealth was built on his skill as a pirate or privateer (depending on your point of view about legalizing plunder on and near the sea). Before 1770, Simon Potter of Bristol was often referred to a pirate by the British, but is more accurately described as a privateer who wildly exceed the bounds of his commission. For example, he sailed out of Newport in 1744 in command of a Newport-registered sloop, with a privateer's commission signed by Governor William Greene of Rhode Island. The commission authorized Potter to seize vessels belonging to the Kings of Spain and France. Instead of attacking vessels Potter and crew raided a Jesuit mission in Guinea, stealing the church silver and vestments, pillaging the nearly houses and setting fire to the church and settlement. That was only a sample. There was no doubt that he was an excellent captain with a well disciplined crew and used intelligent leadership directed toward capturing wealth to be brought back home as the result of the privateer's commission. [Hawes. p 38]

Potter amassed a fortune estimated at a quarter of a million dollars (a large fortune in that era) in his privateering and left the sea returning to Bristol to live permanently ashore just after the town had been transferred from Massachusetts to Rhode Island. He was first chosen to represent the town in the General Assembly in 1752, and from that time until the Revolution, when he had become an Assistant, an office corresponding to that of a State Senator today, he was continually in the colonial councils. His immense wealth was used by him to demand respect and leadership in Bristol.

The records of the Supreme Court of Judicature, Court of Assize and General Goal Delivery of Bristol County show Potter's lawsuits on several occasions in 1770 to 1771 to recover loans in the range of 300 to 500 English pounds to various individuals, indicating both that he was setting up merchant shipping adventures, and also that Potter had a lot of ready cash.

After the war had really begun his civic zeal seems to have waned and he ceased to take an active part in the affairs of either town or State. Possibly the larger ability, the increasing influence and the more striking personality of his townsman, Governor William Bradford, may have had something to do with Potters retirement from participation in public life after the Revolution started, although it may have been also the instinct of self-preservation. Many of the privateers of Bristol and nearby Newport, which was occupied by the English for most of the war, decided the better part of valor was to buy a place in the interior countryside of Rhode Island, and live there instead of Newport. Some of the persons who had been active in the Revolution at an early stage did not do so, and found themselves arrested by the English and taken as prisoners to less than healthy prisons, so Potter may have taken the sensible route of leaving Bristol.

By 1770, Potter had long retired to a life of ease, only to have his native industry assert itself, so that he was active in a number of business enterprises. He owned ships and sent them out on merchant voyages to his profit. He used his wealth to gain significant social status.

Chief Field Officer of Bristol County. And, among other things, from 1770 onward Potter was the Bristol County Colonel. [Records of the Colony of Rhode Island]. That had some civil legal significance, beyond being a title of authority in military matters. The royal charter of the Rhode Island and Providence Plantations gave the Governor the title not only of "Governor" but also that of "Commander in Chief" of the Colony. This legally meant that the King of England had authorized the Governor to control not only the military land forces of the colony but also to control the naval regulation of the colony's waters. Under English law, a country's jurisdiction extended not only out to sea as far as a cannon of the day could shoot, but also extended over everything landside of a straight line drawn between two land points extending out from the coast. In short, Rhode Island lawyers asserted that the Rhode Island Governor, not the English Navy, controlled the waters of Narragansett Bay. That legal doctrine lay at the heart of some of the legal maneuvering between Governor Wanton and Lt. Dudingston. Governor Wanton had received a legal opinion from his Chief Justice that, in effect, an English ship had no authority to act in colony waters unless the Governor authorized it. That was at the heart of Wanton's request to see the authority under which Dudingston was acting.

Now, how does that legal doctrine of Rhode Island's control of its coastal and bay waters apply to Simeon Potter's position as the appointed Colonel of Bristol County? The Governor, through the Rhode Island legislature, appointed field officers to exercise his military authority "in the field". Potter was the chief field officer of Bristol County. Bristol's territory extended half-way across the Bay in the area below Gaspee Point, until it meets the Kent County jurisdiction. So the raiding force, attempting to board the Gaspee in June 1772, included the chief naval officer of Bristol County (Simeon Potter) as well as the chief civil officer of Bristol County.

Potter's Boat Load. In 1770, Potter also had a large dwelling house, a distillery, a store, and a wharf in Providence (on the west side of Main Street and north of Power's Lane) [Chace Papers, box 1, f 18]. Potter's Providence distillery was a few houses south of the Sabin Tavern. Potter may or may not have been in Providence when John Brown laid his plans to attack the Gaspee. At any rate; Potter left from Bristol -- not from Providence -- on the night in question with a boatload of men from Bristol, with the expressed purpose of meeting the boats from Providence to join together in the attack.
19

Naturally and inevitably the town of Bristol became involved in the contest that resulted in the independence of America. The affair of the Gaspee was the first in which her people participated. The Gaspee was an armed schooner stationed in Narragansett Bay for the prevention of smuggling. Smuggling was as much in vogue in American waters as in the waters surrounding the British Isles, and was regarded with no more disfavor in one case than in the other. The commander of the vessel was Lieutenant William Dudingston, a man who was entirely lacking in tact, and who carried himself with such haughty arrogance as to make himself most obnoxious. One day while chasing one of the packet sloops that plied between New York and Providence, he ran aground on Namquid (now Gaspee) Point. His "chase" escaped and carried the joyful tidings of his plight to Providence. At once drummers were sent through the streets proclaiming the situation of the vessel, and calling for volunteers to destroy her before the next high tide. Eight long boats were furnished by John Brown, the leading merchant of the town, which were quickly filled by a rejoicing band. No attempt at disguise was made by those who took part in the expedition, but the oars were muffled to enable the boats to make the attack without being seen. As they drew near the vessel, a little after midnight, they were joined by a whaleboat containing a party from Bristol under the command of Captain Simeon Potter ( The commander of the Prince Charles of Lorraine, of whom we shall write later.)
Their approach was discovered by the watch upon the Gaspee, and as the boats dashed forward they were fired upon from the schooner.

20

The fire was at once returned by the attacking party, and the vessel was boarded and captured after a short but desperate struggle. In this struggle Lieutenant Dudingston was wounded, though not seriously. The crew were captured, bound and set on shore. The vessel was set on fire and completely destroyed. Then, having been entirely successful in their expedition, the boats rowed joyfully homeward. Those who took part in the exploit made no effort to conceal it and some of them even boasted of what they had done. The British Government at once offered a large reward for information that would lead to the conviction of the bold offenders. Some of them were among the foremost men in the Colony and almost every one knew their names, the name of Abraham Whipple especially being on the lips of all the people, but no man of any character could be found to testify against them and none of them were ever brought to trial. The affair took place on June 10, 1772. It was the first contest in which British blood was shed in an expedition openly organized against the forces of the mother country, and it differed from all the other preliminary encounters because of the character of those engaged in it. Other outbreaks were the work of an irresponsible mob. Crispus Attucks, for instance, who fell in the so called Boston Massacre, was a mulatto and the men whom he led were of his type. But some of the leading men of Rhode Island sat on the thwarts of the nine boats, and their boldness seems almost incredible to us of the present day. It shows that while public sentiment at Newport and New York and the other great seats of commerce along the coast may have favored the King, the people of the Providence Plantations were already prepared to sever their relations with England.

21

The only "lyric" to commemorate the affair came from the pen of Captain Thomas Swan of Bristol, one of those who took part in it. His effusion has never appeared in any history of American literature, for good and sufficient reasons, but it is printed in full in Munro's History of Bristol. The participation of the Bristol men in the Gaspee affair is often denied by "out of town" people. I have no doubt respecting the matter. My own grandmother, born in 1784, the daughter of a soldier of the Revolution who was born in 1762 and lived until 1821, and whose grandfather, born in 1731, lived until 1817, firmly believed in it. She had had opportunities for talking the subject over with two generations who were living on June 10, 1772.

In January, 1881, Bishop Smith of Kentucky, born in Bristol in 1794 and a graduate of Brown in 1816, wrote to me calling my attention to a slight difference between the "Swan Song," as I had given it in my History of Bristol, and a version pasted upon the back of a portrait of Thomas Swan's father by Thomas Swan himself. Capt. Swan was Bishop Smith's uncle. The Bishop wrote, "I should not have troubled you on so inconsiderable a point had not the tradition in our family been that the Bristol boat was manned by men in the disguise of Narragansett Indians."

When Bishop Smith penned those lines several men were living in Bristol who had heard the story from Captain Swan's own lips. He delighted in telling it and was accustomed to give the names of Bristol participants. Those names had unhappily escaped the memory of his auditors. The correspondence on the subject of the Gaspee, which occurred during the Revolutionary War between Abraham Whipple and Captain Sir James Wallace, the commander of the British naval forces in Narragansett Bay, is worthy of another reproduction:

22

Wallace to Whipple: "You, Abraham Whipple, on the 10th June, 1772, burned his Majesty's vessel, the Gaspee, and I will hang you at the yard arm.—James Wallace.
" Whipple to Wallace: "To Sir James Wallace; Sir; Always catch a man before you hang him.—Abraham Whipple."

..._______________________________________________...

37

SIMEON POTTER

Most famous among the names of the old sea captains of Bristol is that of Simeon Potter. For almost half a century Potter was the most conspicuous figure in the town in which he was born. He was also one of the influential men in the Colony and State of Rhode Island for a large part of that time.

Simeon Potter was born in Bristol in the year 1720. His father was not a man of fortune and the boy's education was almost entirely neglected. His letters, even in advanced age, are those of an illiterate man who, apparently, had never attempted to remedy the deficiencies of his youth. Perhaps this is not to be wondered at. He went forth from Bristol a humble sailor lad whose only possessions were a sound body and an imperious will. After a comparatively few years spent upon the ocean he returned to his native town with a purse overflowing with riches, a man to be looked up to for the rest of his life.

His wealth was acquired in "privateering," and tales of his captures upon the sea, and especially of his wild marauding descents upon foreign coasts, were familiar as household words to the ears of the Bristolians of three-quarters of a century ago. Those tales lost nothing in the telling and in them Potter came to be endowed with attributes he never possessed. This was especially the case with his stature. Like Charlemagne he continued to grow taller with each fifty years after his death. He came in time to be pictured as a giant in size and strength, a man whose success was largely due to the might of his arm, and not to any especial mental ability.

38

It was not until the letters of Father Fauque (which follow the chapter on Simeon Potter in this book) had been brought to light that we were able to see him as he really was, a slight man. Possibly his great wealth rather than an overpowering personality may have been the cause of his large influence. His fortune was estimated at a quarter of a million dollars, which was an enormous sum for those days.

He plunged gladly into the conflicts of the turbulent age, and by a happy chance came forth from them all without serious injury. When wars ceased his restless energy forced him into constant litigations; he seemed never to be happy unless he had some legal contest on his hands. His intense pride had much to do with this. Like many self-made men he could brook no opposition; he exacted from his townsmen the deference invariably rendered by seamen to the quarter-deck, and never forgot that his success was due to his own unaided efforts. Very soon after the Prince Charles had returned from the raid upon Oyapoc, French Guyana in 1744, it was visited by some officers from a British man-of-war then lying in the harbor of Newport. They were greatly pleased with the trim, man-o'-war appearance of the privateer and expressed their approbation of its commander. Unfortunately they did so with a patronizing condescension that was exceedingly galling to the young captain. When at last one of them ventured to ask "why he did not apply to his Majesty for a commission as the King would undoubtedly give him a larger and better ship" he could no longer contain himself. "When I wish for a better ship I will not ask His Majesty for one, I will build one myself," he said, and, turning on his heel, left the Englishman wondering what he could have said that seemed so offensive.

30

Potter left the sea and came back to Bristol to live just after the town had been transferred from Massachusetts to Rhode Island. He was first chosen to represent the town in the General Assembly in 1752, and from that time until the Revolution, when he had become an Assistant, an office corresponding to that of a State Senator today, his voice was continually heard in the colonial councils. After the war had really begun his zeal (though not his pugnacity) seems to have waned and he ceased to take an active part in the affairs of either town or State. Possibly the larger ability, the increasing influence and the more striking personality of his townsman, Governor William Bradford, may have had something to do with Potters retirement from participation in public life.

However that may be, when the contest that was to result in the independence of the United Colonies began he plunged into it with immense delight. These lines in his own handwriting, preserved to the present day by a descendant of one of his sisters (he left no children), show clearly his mental attitude at that time:
I love with all my heart
The independent part.
To obey the Parliament
My conscience won't consent.
I never can abide
To fight on England's side.
I pray that God may bless
The great and Grand Congress.
This is my mind and heart
Though none should take my part
The man that's called a Tory
To plague is all my glory.
How righteous is the cause
To keep the Congress laws!
To fight against the King
Bright Liberty will bring.
Lord North and England's King
I hope that they will swing.
Of this opinion I
Resolve to live and die
40

His participation in the destruction of the Gaspee has been already described. When the office of Major-General of the Rhode Island Colonial Forces was created his zeal and energy had so impressed his fellow members of the General Assembly that he was chosen to fill it. His tenure of office must have been brief. In 1776 he had been chosen Assistant (Assistants were elected by the vote of all the freemen of the Colony), but he did not present himself at many meetings of the Assembly. In fact so neglectful was he of his duties that a vote was passed requesting his reasons for absenting himself, and demanding his attendance at the next session. Undoubtedly the increased taxes had something to do with it. He was the wealthiest citizen of Bristol and one of the richest men in the Colony, and the possession of money was his chief delight. He could not bear to see it taken away from him even though the independence of the Colonies might thereby be assured. One day a young nephew was talking with him and lamenting his apparent lack of success. "How, Captain Potter," said he, "shall I go to work to make money?" "Make money," said Potter, "make money! I would plow the ocean into pea porridge to make money!"

In 1777 his name appears for the last time in the Colonial Records. At the Town Meeting held in Bristol in May of that year "Colonel Potter was chosen Moderator, but after the usual officers were elected he withdrew and refused to serve any longer."

41

A tax collector's account was then presented showing that he had neglected to pay all his taxes. Three years later, May 10, 1780, it was voted in Town Meeting:
That the Assessors make enquiry and make report to the town at the adjournment of the meeting, what part of Colonel Potter's taxes remain unpaid, and that Mr. Smith, the collector, be desired to apply to the Assessors of the town of Swansea to know at what time said Potter began to pay taxes in said town, and what part of his personal estate has been rated from time to time in said town.
Although he still retained his household in Bristol he had taken up his residence in Swansea, where the rate of taxation was considerably less than that of Bristol. In that Massachusetts town he continued, nominally, to reside for the rest of his life. Notwithstanding his residence in another State he still continued a member of Saint Michael's Church. In 1792 a vote of the Vestry was passed, thanking him for painting the church edifice, and for other benefactions, and in 1799 he presented a bell (with a French inscription) to the parish. His name headed the list of vestrymen from 1793 until his death. He died, at the age of eighty-six, February 20, 1806, leaving no children. His estate was by will divided among his nine sisters and their descendants. All the beneficiaries did not fare alike. He had his favorites and his strong prejudices. As is almost always the case popular estimate had exaggerated the value of his property. Instead of a quarter of a million, less than half that amount was divided among his heirs. The inventory showed that he had made a great many "wildcat" investments.
From his house on Thames Street the old captain was borne to his last resting place in the burying-ground upon the Common.

42

It was the most impressive funeral the town had witnessed. All the people turned out to see the long procession, and to take part in it. The privateering exploits of his early life were again retold, the innumerable legal battles of his later days were again recounted. Full of strife and tumult were the centuries in which his life had been passed, stormy and passionate his own career had been. He was perhaps the last, he was certainly the most successful, of the old sea captains who, as English subjects, had sailed forth from Narragansett Bay to make war as privateersmen upon the foes of Great Britain. But among those who followed his corpse to its final resting place were men who in less than a decade were to sail out from Bristol harbor in a little private armed vessel whose success as a privateer was to surpass his wildest imaginings, a vessel that was to collect from English merchants a tribute many times exceeding that which he had exacted from the enemies of England. The story of that vessel will be told in the last chapter of this book.

Potter was most noted for his raid upon the coast of French Guyana of which an account follows. He was captain of a typical American privateer when Narragansett Bay was noted throughout the Colonies as a nursery of privateersmen. Rhode Island furnished more privately armed vessels for the service of the mother country during the eighteenth century than did any other American Colony. From the year 1700 to the Revolution at least one hundred and eighty such ships sailed out from its ports. They were long and narrow, crowded with seamen for their more speedy handling, and maneuvered with a skill that placed the slower ships of the French and Spaniards entirely at their mercy. They carried long guns which enabled them to disable their adversaries at a distance, thus preventing their enemies from inflicting any damage in return.

43

Because built for speed they were of light construction. A broadside from a man-of-war would have gone crashing through their hulls and sent them at once to the bottom of the sea, but the seamanship of their captains always kept them out of reach of such a broadside. Their greatest danger was from the gales that drove them upon a rocky coast. Then no skill of their captains could save them. Their slight frames were quickly broken to pieces, sometimes with the loss of every man on board. The Prince Charles of Lorraine was wrecked upon the rocks of Sakonnet Point not long after the voyage herein described.

The kind of warfare in which they engaged would not now be regarded as honorable, yet it was then approved by all nations. Not only did they seek prizes upon the ocean; a descent upon the coast of the enemy, a plundering of a rich town especially if it was undefended, was an exploit from which they derived the liveliest satisfaction. They preferred that kind of an expedition, for, as was always the case with private armed ships, their aim was simply to acquire wealth for themselves, not to inflict unprofitable damage upon their adversaries. Privateering was only a species of legalized piracy as far as these raids were concerned. Happily the ruthless bloodshed and the outrages which characterized the raids of the buccaneers and other pirates were never charged against sailors on the legally commissioned private armed ships. Their trade was brutal but they carried it on with the approbation of their fellow men because it was a custom that had prevailed from time immemorial. Very rarely have records of their raids been preserved, more rarely still accounts written by their victims.

44

The one which follows was discovered and made public some three-quarters of a century ago by Bishop Kip of California. At the sale of a famous library in England he purchased a ' set of the "Letters of Jesuit Missionaries from 1650-1750," . bound in fifty or more volumes. In 1875 he published a, volume containing translations of the letters relating especially to American history. From this volume, which has'' long been out of print, the following account is taken. '

The owners of the Prince Charles of Lorraine were Sueton Grant, Peleg Brown and Nathaniel Coddington, Jr., of Newport. Simeon Potter of Bristol was her captain, and Daniel Brown of Newport was her lieutenant. Among the Bristol men on the privateer were Mark Anthony DeWolf (founder of the family destined to become most famous in the history of the town), clerk; Benjamin Munro, master; Michael Phillips, pilot; William Kipp and Jeffrey Potter, the last being probably an Indian slave of Potter. Upon her return from her cruise Captain Potter was summoned before an admiralty court, having been accused of certain high handed, not to say illegal proceedings. Among other things he was charged with having fired upon a Dutch vessel while his ship was lying at anchor in Surinam, Dutch Guyana. He proved to the satisfaction of the court that he had fired upon the Dutch ship at the request of the Captain of the Port, in order to "bring her to," his own ship being between the vessel and the fort at the time and so preventing the fire of the fort. The admiralty judge decided that Potter had not been guilty of the offences charged, and that he had shown zeal and enterprise worthy of commendation: and imitation. The trial proceedings combined with Father Fauque's narrative (which comprises the following chapter in this book) give a complete history of the cruise.

45

The privateer sailed from Newport September 8, 1744, and arrived at "Wiopock, twelve leagues to the windward of Cyan," October 28. Up to that time she had taken no prizes. Upon his arrival Potter took thirty-two men and made a descent upon the town. They reached it at midnight and were at once fired upon by its garrison, Captain Potter receiving a bullet in his left arm. Of course they took the fort; garrisons in the tropics were never equal to privateersmen as fighters. They took some twenty prisoners (the other defenders having promptly fled), six cannon and from sixty to seventy small arms. They remained at Wiapock twelve days while they sacked the town, taking from it everything of value. Some of the company were sent up the river to plunder plantations. All things taken were carried to Barbados and there condemned as French property, with the exception of some slaves detained at Surinam and some personal property which Potter sold at a "vandue" on his ship. Having stripped Wiapock (the name of the place was Oyapoc but American and English captains were never strong on spelling) to their hearts' content, they sailed to "Cyann" (Cayenne) and dropped anchor at that place November 11. There they tarried four or five days, during which they sent plundering expeditions up the river. One of these came to grief on a shoal. The twelve men who manned the boat were attacked by one hundred and thirty soldiers, three of them were killed, four were wounded and the others carried to Cyann fort as prisoners. Thereupon Potter sent a flag of truce to propose an exchange of prisoners. The exchange was arranged and among those returned by the Americans was "a priest," Father Fauque. Then the Prince Charles sailed to Surinam well satisfied with what had been accomplished. At Surinam Captain Potter gave an entertainment to two English merchants and some masters of ships that were at anchor in the port.

46

Seamen of that day were not always total abstainers and I after the banquet the "vandue" was had of which mention has already been made. The prices obtained for the plunder were doubtless satisfactory for the most part to the sellers, but not in all cases. The goods sold "to the value of thirty or forty pieces of eight." They belonged to the "company" and the captain purchased many of them on his own account thereby furnishing cause for the suit brought against him on his return to Rhode Island, from which suit he came out triumphant. Immediately after the sale the seamen demanded their share of the proceeds. Captain Potter told them they were still in debt to the owners for advances made and as his arguments were enforced by a drawn sword they were admitted to be valid.

In his testimony before the admiralty court the Indian, Jeffrey Potter, was more specific as to the plunder secured at Wiapock than any other witness. He testified that they took seven Indians and three negroes, twenty large spoons or ladles, nine large ladles, one gold and one silver hilted sword, one gold and one silver watch, two bags of money, quantity uncertain; chests and trunks of goods, etc., gold rings, buckles and buttons, silver candlesticks, church plate both gold and silver, swords, four cannon, sixty small arms, ammunition, provisions, etc. But the wealth secured on this raid could not have been very great. French Guyana at the present time has a population of only 30,000, of whom 12,500 live at Cayenne. The number of people then living at Oyapoc was much smaller than the population of today. The town burned by the marauding expedition sent up the river contained not more than seventy houses, and anyone who has visited the countries lying along the north coast of South America knows that "the wealth of the tropics" is a wild figure of speech as far as the house furnishings are concerned.

47

Equally wild are some of the accounts of the raid. One writer states that "there can be no doubt that in this cruise Captain Potter and his command invaded and desolated 1500 miles of the enemy's territory; that on the Spanish Main in his march he visited churches and dwellings, and brought from the field of his exploits large amounts of booty." This writer was but repeating the tale as it had been told him in his childhood. He had never deemed it necessary to verify it. If he had considered the matter he would have realized that French Guyana is not a part of the Spanish Main at all, and a glance at the map would have shown him that between Cayenne and the mouth of the Orinoco River, where technically the "Spanish Main" begins, lie the hundreds of miles of coastline of Dutch and British Guyana. No privateer of the size of the Prince Charles could possibly have carried provisions and water sufficient for such a cruise if the expedition had been made in the vessel itself, and no ship's crew of the size of that which Potter commanded could, by any stretch of the imagination, have made such a journey overland. Moreover no mention whatever of the Spanish Main, or of booty except that obtained at Cyann and Wiapock, is to be found in the records of the admiralty court. The statement affords an excellent illustration of the astounding growth of popular traditions.
Chapter I

Descendants of Anthony De Wolf
In Bristol, Rhode Island, at one time an old town of Plymouth Colony, stands a De Wolf Mansion, always spoken of as "The Mount." It fronts upon what is now called De Wolf Avenue. Behind it rises "Mount Hope," the seat of the famous Wampanoag Chief, "King Philip." All this was once part of the extensive possessions of the Hon. James De Wolf, "in his time the dominant personality of the town." The sun as it gilds the roof of the busy city of Fall River, and glances across the intervening waters of Mount Hope Bay illumines the eastern windows of the old home while its declining rays glimmer through the honey locusts, casting their shadows on the western porch. Then it sinks over the hills beyond Poppasquash, a peninsula where stands other stately mansions of the De Wolf family and the shores of which so encircle Bristol Harbor that its resemblance to the Bay of Naples has often been remarked; indeed those Italian waters are scarcely bluer than the beautiful Narragansett Bay. That fine old mansion, "The Mount," was for more than half a century the center of gatherings of successive generations of that branch of the family commonly known as the "Rhode Island De Wolfs." The walls of the long drawing-room are quaintly painted by hand, with scenes from "Paul and Virginia," interspersed with panels on which slaves are seen toiling in rows of coffee plants on Cuba Plantations belonging to members of the family. These latter well typify two chief sources of the princely fortunes of the De Wolfs of that day—the slave trade and the West Indian trade.
This house, colonial in style, is not earlier than the time of James De Wolf. His father Mark Anthony De Wolf, the first to settle in Bristol, the common ancestor of all the De Wolfs of Rhode Island, lived in humbler homes both in Bristol and the neighboring township of Swansea. There is a much older house at the opposite end of the town, where the Town bridge spans a creek from which the old place takes the name "Silvercreek;" "Just North of the Town Bridge on the East side of the road stands," says Prof. Munroe in his History of Bristol, "the first house erected within the limits of Bristol." Built in 1680, the year the town was settled, by Deacon Nathaniel Bosworth, it had within its walls, in the southwest room, the parlor, the first gathering for religious worship held in Bristol. Notwithstanding many exciting scenes and dangers, Indian Wars, the Revolution, the "Dorr Rebellion," the Civil War, the great "September Gales" of 1815 and 1869, it has never failed to shelter descendants of its pious builder. Descending through Ruth Bosworth and her son judge Benjamin Bourn, it was inherited by his granddaughter Julia Jones, the wife of James De Wolf Perry; their sons, the writer and his brothers, own the place at this day. These old places have so much in common, as will appear later in our narrative, that it seemed fitting that they should be mentioned together.
Charles De Wolf, father of that Mark Anthony who was first of the family to come to Bristol, was not, as has been frequently said, a Frenchman, but a good Connecticut Yankee. Born at Lyme, Conn., 1695, the starting point of many New England families of note, with the spirit of enterprise characteristic of the family he emigrated to Guadaloupe, an island of the French West Indies, as a young man, establishing himself as a millwright, one of many of his race to be connected with the building and ownership of mills. The interesting essay of Mr. John M. Dolph, read at the Dolph Reunion, Aug. 21, 1901 at Kinsman, O., says that Charles before leaving Connecticut, "carried on a business, trading with the West Indies and went to Guadaloupe to facilitate this trade." Whether he married before or after leaving the country, the writer has not been able to absolutely ascertain, but one of the oldest of his Rhode Island descendants is authority for the statement that his wife Margaret Potter was an English woman and a member of the Church of England, in which faith she brought up her children, two sons and two daughters. The oldest, Simon, returned to the home of his grandfather Charles in Middletown, Conn., as a boy. As he was born in l718, he was only thirteen when his grandfather died in 1731, his youngest uncle Joseph and himself were lads of about the same age.
"April 3, 1731, Charles De Wolf (this was the father of Charles of Guadaloupe), of Lebanon, Conn., bought of Thomas White of Middletown, Conn., his dwelling house and about 19 acres of land on the east side of the Connecticut River in Middletown, now a part of the town of Portland. The town records give the death of Charles De Wolf as Dec. 5, 1731, at the age of 58. His will, dated Nov. 4, 1731, was presented to the Hartford Probate Court, Jan. 4, 1731-2. In the will he gave one-fourth of his personal estate absolutely, and the whole of his real estate to his wife Prudence during her widowhood; to his sons John and Stephen he gave 32 acres of land in Glastonbury, that which he purchased of Thomas and Sarah White; to his sons Simon and Joseph he gave after their mother's death or marriage, his house and lands in Middletown which he purchased of Thomas White; to his daughters Prudence and Elizabeth, Sarah and Rebekah, three-fourths of the movable estate after their mother's death or marriage; to his sons and daughters in equal share he gave the land given to him by his father in the town of Lyme, "that is if it should ever be recovered."
From the home of his father in Guadaloupe, the second son Mark Anthony was brought to Bristol, R.I.) by Capt. Simeon Potter of that town. His visit to that island may have been merely in pursuit of trade. Possibly some tie of kindred may have existed between Margaret Potter, Mark Anthony De Wolf's mother and the Potters of Bristol. Mark Anthony who had received his education in a French school and spoke several languages, became Capt. Potter's Secretary, in which capacity he sailed with him on a number of voyages.
Arriving in Bristol, Capt. Potter seems to have had some presentiment or design, in introducing his companion to his family. Mr. Charles De Wolf Brownell, himself now one of the oldest living De Wolfs, remembers hearing in early days from an aged member of the family, that "when `Sim' Potter brought home his man Mark, as they entered the door his sister Abby put her arms across the passage. playfully blocking their entrance. `Let us in,' cried her brother `or you shan't have Mark."' Whether as a part of a preconcerted, possibly cousinly, plan or not, Abigail Potter soon became the wife of Mark Anthony De Wolf. The scene of this coquettish reception and subsequent courtship was the home of Hopestill Potter on the southeast corner of Hope and Church Streets where in 1720, his son Simeon was born and which was burned by the British in 1775.
How soon after his arrival in Bristol the nuptials took place it is impossible to say, for the date of the former does not seem known. As young De Wolf was only eighteen years old when, on the 25th of August, 1744, he became his friend's brother-in-law, the courtship was probably brief. Certainly brief was the honeymoon. In less than four months from his wedding day he was sailing out, of Bristol Harbor with far other purposes than love making. Those were stirring times. War had been declared between Great Britain and France. Four months, less three days, from his marriage, Mark Antony, on the Privateer Prince Charles of Lorraine, commanded by his friend and brother-in-law Captain Sim Potter, was surprising the settlement of Oyapoc in French Guiana. The account of this remarkable naval engagement is preserved in a spirited letter of the Jesuit Father Fauque, translated and published by Bishop Kip. Invaluable to the Rhode Island De Wolf's would have been a description by this sprightly writer of their ancestor, Mark Anthony De Wolf. Bishop Kip simply tells us he was first officer of the vessel. William P. Sheffield of Newport, an acknowledged authority on the subject of Privateers, describes him more accurately as Capt. Potter's clerk. He may however, have been acting as second officer on this occasion. Of Captain Potter, Father Fauque tells more. As through his sister Abigail Potter, as much Potter as De Wolf blood flows through the veins of the Rhode Island De Wolfs, everything that throws light upon the Potter character, is interesting. Still more so, if, as we have suggested as possible, they have received a double portion of the same family traits through Margaret Potter, Mark Anthony's mother. And fiery, impetuous, adventurous, thrifty, often overbearing and impatient under contradiction, yet withal frank and in a way, generous that Potter character was. As revealed even by this writer smarting under defeat, and personal loss, "if the daring little captain," as Prof. Munroe says: "does not present a very pleasing picture," yet neither does he appear without redeeming traits. Allowance must be made for a writer who speaks of "Rhodelan" (i.e. Rhode Island) as "a little Republic which had scarcely any intercourse with Europe, which did not pay any tribute to the King of England and had not even any silver money, but only notes for daily commerce "and who by these facts accounts for the crew in their pillage being "like a band of monkeys or of savages who had never been away from the depths of the forest." Yet his description of Capt. Potter the "Chief of the Corsairs," with "commission from William Gueene of Rhodelan" is not altogether to that officer's discredit. "He was a man small in stature, and not in any respect differing from the others in dress," writes the Priest. "He had his left arm in a sling, a sabre in his right hand and two pistols in his belt." He thought him "a young man about thirty years of age"—he was in fact only twenty- four. If the Sacred Vessels of the Church formed part of the booty yet "the Captain told me he would willingly give to me what he was able to return but that he had no control over the others; that all the crew having part of the booty, he was not able as Captain to dispose of any but his own share." In this Capt. Potter appears neither ungenerous nor unjust. If the roistering crew were "constantly drinking " the narrative adds, "I ought to say in commendation of the Captain that he was entirely sober." If "on Sunday morning" the Priest waited in vain "to see some religious service" the Captain took out a book of devotions (his Prayer Book), "and I noticed this day and the following Sunday he occasionally looked at it" and "he frequently expressed the pain he felt at the excesses of his crew to whom according to the custom of these pirates, he was obliged to allow an abundance of liberty." He was the only one wounded on either side. Thus we see him democratic in dress and in relation to his subordinates, not shrinking from personal danger but foremost in the fight, not without generous impulses, and in the midst of rough life and rude companions, preserving religious habits and moral conduct, and withal giving the impression as he presided over his ship of a man six years older than he really was. Hot blooded, imperious and "proud as Lucifer" he undoubtedly was. When later galled by the condescending encomiums of officers of His Majesty's Navy, visiting the Prince Charles, he replied to their suggestion of applying for a commission and obtaining a larger and better ship—"When I wish for a better ship I will not ask His Majesty for one; I will build one myself."
At times Capt. Potter was as fierce as he was intrepid and always impatient of contradiction even to knocking down his Rector, apparently as imperious as himself. For this "knockdown argument" he was fined £500. Neither of the hot blooded antagonists seemed to have harbored resentment.
Capt. Potter continued to be a Vestryman of St. Michael's Church, and under Puritan oppression a valiant defender of the English Church to which he was devotedly attached, enriching the Parish with many valuable gifts. He was also to the end of his life, a warm friend of his old antagonist's son and successor, Rev. John Usher, Jr. The hot blood did not cool with age. When about the time Bristol became part of Rhode Island (1646-47) he retired from active business to the enjoyment of no inconsiderable fortune for those days, he abandoned battling with armed foe and stormy winds only to continue to the end of his long life of 86 years, closing Feb. 20, 1806, "rarely without some law suit or personal quarrel on hands." Hot tempered and easily offended yet he was certainly enterprising and most successful in money making. "Make money! Make money!" he replied to a less successful nephew inquiring for advice, "I would plough the ocean into oat porridge to make money." His sword.did not rust after his retirement, nor his adventuresome spirit forsake him. In 1773 we find him commanding the Bristol contingent to the "fleet of nine long boats commanded and in great measure provided by Capt. John Brown of Providence, engaged in capture and burning of the Gaspée. The testimony of one of the crew of that ill- fated ship as to Capt. Potter's stature differs from that of the Jesuit. "Tall and slim" the sailor describes him, with a long nose, in light colored long clothes, his hair tied behind, looking more like a shore-man than a sea-man." Shoremen or seamen, the plucky party of Yankees under leaders like Brown and Potter, in the words of the popular ballad attributed to Capt. Swan of Bristol. "Set the men upon the land And burnt her up we understand." Thus shedding the first British Blood in the American Revolution. A year later, having been for several years a member of the Assembly, he was chosen to fill the newly created office of Major General of the Rhode Island forces, and the following year, 1775, during the Bombardment of Bristol by Capt. Sir James Wallace, he went in the hottest fire to the head of the wharf, hailed the British ship Rose and arranged to treat with the enemy. Thus could he face an enemy as bravely at fifty as he had at twenty-four, throwing himself with enthusiasm into his country's struggle and so justifying his quaint doggerel still preserved in his handwriting by his descendants:
"I love with all my heart
The independent part
To obey the parliament
My conscience won't consent.
I never can abide
To fight on England's side.
I pray that God may bless
That great and grand Congress."
Although young De Wolf became thus bound by double bands of kinship and comradeship to the wealthy ship owner of Bristol, he never seems himself to have attained any considerable fortune. Mrs. Middleton, a great-grand- daughter of his still living in one of the fine old De Wolf mansions, that of his son William, preserves the tradition however, that he was at least in more than comfortable circumstances when in 1778 his was among the nineteen dwelling houses burned by the British. It was situated on the South corner of Burton Street and Main Street, having been built by Stephen Burton, one of the four proprietors. Impoverished by his loss, Mr. De Wolf moved his family to a safer distance from the defenceless coast, and on a farm in Swanzea, with the courage under reverses that has characterized many of the family began industriously to repair his losses. It was of this time of struggle that in after days, when the great fortunes of his sons had rendered them famous, Mrs. Peck, mother of Mr. Viets Peck, used to tell of the stitches her mother would take in the gaping brim of his straw hat when he came down to Bristol to sell the berries gathered on his f arm. Less kindly did his boys seem to take to farming. Several of them who had been sweating in the corn rows one summer day flung down their hoes declaring they would no longer hoe corn when they knew they could get places on their Uncle Sim Potter's privateer about to sail from Providence. So off they trudged upon the road to that city. As after their long dusty walk they emerged from Seekonk Woods near the "old Red Bridge," James, the youngest but one of the party, becoming conscious of the dilapidated condition of his hat, and with the vanity of a handsome lad less resigned than his father to his appearance, cried out, "Boys, I'm not going through Providence like this," and flung the brimless crown—or was it a crownless brim?—into the wayside bushes. Bareheaded he presented himself with his brothers to his no doubt astonished yet sympathetic, bluff old Uncle Sim Potter. They secured the coveted places in the ship and thus began that life of devotion to the sea, which the sea was soon go richly to repay. After their return from this voyage, the boys' wardrobe, scant enough no doubt on the start, had not been improved. In reply to a remark of some one that William had barely enough clothes to decently cover him, "Never mind," said the stout old Captain, "the boy has come home covered with glory."