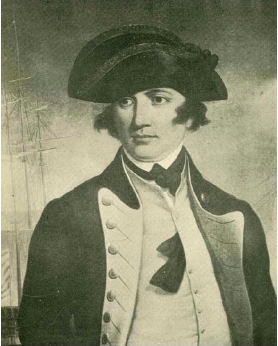 Left: Esek Hopkins, by Martin Johnson Heade, Brown University Portrait Collection

From: An Historical Sketch of The Town of Scituate, R.I.; Part 2
http://ftp.rootsweb.com/pub/usgenweb/ri/providen/scituate2.txt (stale link 2009):


Esek, soon after the death of his father in the summer of 1738, a stout, tall and handsome young man, then in the twentieth year of his age, bid adieu to the old homestead and journeyed to Providence and became a sailor, soon rising to the position of Captain. He married when he was twenty-five years of age, Miss Desire Burroughs, daughter of Mr. Ezekiel Burroughs, of Newport, and took up his residence there. His conspicuous services in the war of the revolution, as the first commodore of the navy are well known. His fleet, consisting of the ships Alfred, Capt. Dudley Saltonstall, and the Columbus, Capt. Whipple, the brig Andrew Doria, Capt. Nicholas Biddle, and the Cabot, Capt. John B. Hopkins, son of Esek, and the sloops Providence, Fly, Hornet and Wasp, put out to sea Feb. 17, 1776, with a smart north-east wind, and cruising among the Bahaman Islands, captured the forts at New Providence, Nassau. This was a very fortunate affair, for the heavy ordinance and stores taken proved quite acceptable to the country. He captured two British armed vessels on his return.



Esek was descended from the Thomas Hopkins that emigrated to Plymouth Plantation in 1635, and he was raised in his mother's Quaker religion. His great-granduncle was Benedict Arnold, the first governor of Rhode Island (not to be confused with the much later Benedict Arnold the traitor). He grew up in the small agricultural community of Scituate to the West of Providence, RI, the fourth of eight children. He had little formal education, was taught by his fiesty mother and in the public schools, and eventually left to find his fortune on the docks of Rhode Island. In his travels he met and c1741 <>married Desiree Burroughs (1720) of Newport, the daughter of wealthy shipping magnate, Ezekiel Burroughs.

During King George's War of 1743 to 1748 and the French and Indian War of 1754 to 1763, Esek Hopkins was heavily involved in privateering against the both the Spanish and French merchant fleets. and he steadily gained experience, wealth, and reknown for his captures on the high seas.

Esek Hopkins is one of the subjects of an early American painting (1755) by John Greenwood entitled "Sea Captains Carousing in Surinam", one of the originals of "Dogs Playing Poker" genre. Surinam (Suriname) was a Dutch colony on the North coast of South America known for its slave plantations. It was a predominant trading destination for Rhode Island merchants during the 18th century who exchanged lumber, horses, rum, and African slaves for sugar, coffee, and cocoa in what is known as the Triangular Trade. Esek Hopkins was a mariner who often sailed for the Brown family, and commanded the disasterous slave trading voyage of the

Sally

in 1764, during which most of his cargo of 140 African slaves died. Details of the voyage of the

Sally

, as well as original source documents, and more information about Rhode Island's involvement in slavery are found at Brown University's Steering Committee on Slavery and Justice.



Right:

Detail inset from Sea Captains Carousing in Surinam

(c1752-1758) by John Greenwood (1727-1792)

courtesy St. Louis Art Museum. Left to right at table: Nicholas Cooke, Esek Hopkins, Stephen Hopkins (asleep), and Joseph Wanton. Click to view entire image. There is some controversy as to whether this man in red was actually Stephen Hopkins, as per the said tradition of the original owners of the painting, the Jenckes family. Brown University professor Robert Kenney believed that this man must have been Esek and Stephen's other brother, William, since Stephen was

at the time running for re-election as Governor,

and tied up in court in Worcester MA while suing his arch rival Samuel Ward for slander.

After the colonial wars Ezek, along with his equally famous brother Stephen Hopkins, bought a store in Providence that led to a successful and profitable career in a mercatile and ship-building partnership.

Per the 1770 List of Providence Taxpayers, Esek Hopkins owned two properties, and his brother Stephen Hopkins, as well as a Christopher Hopkins and a Rufus Hopkins. This Rufus was probably the Rufus Hopkins (c1726-1809) that was the son of Stephen Hopkins, but we have no idea who Christopher Hopkins was.

We do not hear much about the whereabouts of Ezek Hopkins along the time of the burning of the

Gaspee

in 1772. His home was actually 25 miles south in Newport where he and his wife Desiree Burroughs Hopkins had nine children. But as a close associate of John Brown and his brothers, he had plenty of reason to have been in Providence on the night of June 9th.

As the dark clouds of impending war further settled on the region, as early as May, 1773, the Rhode Island Assembly ordered gun platforms to be installed in the fort protecting Newport under the directions of John Jepson and Captain Esek Hopkins.

Later, the Legislature thought better of reinforcing the

defences

of exposed Newport and withdrew all the cannon to defend Providence in 1774. On October 4, 1775

the RI Assembly appointed Esek Hopkins as overall commander of Rhode Island militia forces, and conferred on him the rank of brigader-general.

While at Congress, Esek's younger brother Stephen Hopkins served on the committees that prepared the Articles of Confederation. Stephen's' knowledge of the shipping business made him particularly useful as a member of the Naval Committee. He persuaded the Congress in 1775 to outfit 13 armed vessels and to commission them as the Navy of the united colonies. He also saw to it that Rhode Island received a contract to out fit two of these, and appointed his brother Esek Hopkins as its commander-in-chief on November 5, 1775.

From: Lucia Hammond Wheeler writing in Revolution In Three Acts


One morning in February, 1776, it sailed past the Capes of the Delaware with Hopkins' flagship, the Alfred, (formerly the Black Prince) flying the yellow-and-black rattlesnake flag "Don't tread on me!" Hopkins was under secret orders to proceed to the island of Abacco in the Bahamas and capture a large supply of gunpowder and other war munitions stored there. The fleet arrived off Abacco on March 1 - and then and there Hopkins gave the time-honored phrase, "The Marines have landed," a start in life, for he sent 200 of them ashore and shortly alter captured Fort Nassau and the supplies. On the way home the little fleet took two prizes and let a third, the Glasgow, a heavily-armed vessel, get away. Hopkins arrived in New London April 8 with the sorely-needed munitions, having carried out a daring exploit which earned him the thanks of Congress.

All this might be expected to presage a brilliant career but it didn't. Hopkins had an almost unexampled run of bad luck. He was court-marshaled for misconduct in allowing the Glasgow to escape and though he was acquitted the incident didn't help him any. Congress didn't approve of his act in donating Newport 26 captured guns to be used in defending the city against the then-expected British. Sickness whittled down his crews; Washington sent him 200 men and then took them away from him. The sailors didn't get: their pay and expressed themselves on the point with nautical force and fluency. On May 14 Hopkins was up before the Marine Committee to answer to a charge of breach of orders. He was tried Aug. 12 and censured by Congress, which then sent him to Newfoundland to operate against the fisheries and British merchantmen. Privateering was rampant then and he couldn't get crews. The fleet didn't sail. They ordered him to Cape Fear. Again he was unable to get men to man his ships. The sailors of New England were all at sea reaping a rich harvest of prize money. There is no more tragic figure than Esek Hopkins, commanding a fleet which couldn't sail because the seafaring population of New England had turned to legalized piracy. Privateering was the most profitable form of patriotism then extant and everybody was going in for it enthusiastically, with a yo-heave-ho and a letter-of-marque.

The British fleet bottled Hopkins and his fleet up in Providence harbor in December, 1776. Even a blockade didn't end Hopkins troubles. He got in trouble because he didn't go after the Diamond when that British ship went aground on an island off the Warwick shore.

Wrote Hopkins to William Ellery, signer of the Declaration of Independence and delegate to Congress from Rhode Island:

"We are now blocked up by the enemys fleet the officers and men are uneasy, however I shall not desert the cause but I wish with all my heart the Hon. Marine Board could and would get a man in my room that would do the country more good than it is in my power to do, for I entered the service for its good and have no desire to keep in it to the disadvantage of the cause I am in."

A manly letter - and a heartbroken one. Hopkins was dismissed from the service of the United States on January 2, 1778, an action for which Congress ought to have been kicked.


Field, Edward.

Esek Hopkins, Commander and Chief of The Continental Navy...

Providence: The Preston & Rounds Co. 1898. Page 172 (on-line in Google Books) .

Cooper,

James Fenimore.

History of the Navy of the United States of America

. New York: Stringer & Townsend, 1856. Page 32. (on-line in Google Books).

In January 2012 we received an e-mail from Nanci Kendall who is doing research at the Gilder Lehrman Collection. According to a letter written to his wife by the illustrious hero Henry Knox in April 1776, Esek Hopkins was prone to a profane streak

:




I have been on board (with)

Admiral Hopkins

- and I've been in Company with his Gallant son who was wounded in the engagement with the

Glasgow

- the admiral is an Antiquated figure, he brought to my mind Van Tromp the famous Dutch admiral - Tho' antiquated in figure he is Shrew'd & sensible [2] I who you think am not a little enthusiastic [struck: as you think] should have taken him for an Angell only he swore now & then which to be sure is not angelic, his Son

Capt John Hopkins

is a sensible genteel man about 30 Years old and who will one day (if he don't get kill'd) make a most formidable figure in American History

Left: portrait of Esek Hopkins by Wilkinson. It should be noted that the same image of Hopkins was redrawn and repainted by others over the years, most using the same pose with differing backdrops. Compare to image above.
HOPKINS, Esek

naval officer, born in Scituate, Rhode Island, in 1718; died in North Providence, Rhode Island, 26 February, 1802. When the Revolutionary war began he was commissioned by General Francis Cook as brigadier-general, and in December, 1775, he was commissioned by the Continental congress commander-in-chief of the navy, and was officially addressed by Washington as "Admiral Hopkins." In February, 1776, he put to sea with the first squadron that was sent out by the colonies, consisting of four ships and three sloop. The fleet sailed for the Bahamas, and captured the forts at New Providence, with eighty cannon and a large quantity of ordnance stores and ammunition. On his return off Block island, he took the British schooner "Hawke" and the bomb-brig "Bolton," and was complimented officially by the president of congress for this success. Two days afterward he attacked the "Glasgow," of 29 guns, which escaped, and Hopkins was censured. In June, 1776, he was ordered by congress to appear before the naval committee to reply to charges preferred against him for not annoying the enemy's ships on the southern coast. He was defended by John Adams and acquitted, but unavoidable delays in getting his ships ready for sea at a later period gave his enemies another opportunity for complaint. He neglected a citation to appear in Philadelphia, and on 2 January, 1777, was dismissed from the service. He then settled near Providence, exerted throughout a long life an immense political influence in Rhode Island, and was for many years a member of the general assembly.--His son, John Burroughs, naval officer, was one of the first captains of the Revolutionary navy, being commissioned 22 December, 1775. He commanded the "Cabot" in the expedition to the Bahamas in 1776, and in April, 1779, sailed from Boston in command of a squadron, and captured, with small loss to his own fleet, seven vessels laden with stores, 200 men, and twenty-four British officers.

In 1783, Paul Allen and Esek Hopkins were in charge of adjudicating claims for boats that had been taken from citizenry for use in the Revolutionary War.

Sources consulted:
Bartlett, John Russell, ed.

Rhode Island Colonial Record

,10 volumes, 1865.


Quahog.org website


Rappleye, Charles.

Sons of Providence: The Brown Brothers, the Slave Trade, and the American Revolution

. (Simon & Schuster, 2006)


Robinson, Natalie. Revolutionary Fire: The Gaspee Incident


Staples, William R., The Documentary History of the Destruction of the Gaspee


Stone, Edward Martin.

The Life and Recollections of John Howland, Late President of the Rhode Island Historical Society.

Providence, Geo. H. Whitney, 1857.


The TriCentennial Commission website



Bibliography from the
Congressional Biography of Stephen Hopkins
:
Foster, William Eaton. Stephen Hopkins, a Rhode Island Statesman. Providence: S. S. Rider, 1884.


Hopkins, Stephen. The Grievances of the American Colonies Candidly Examined. London: Reprinted for J. Almon, 1766. New York: Research Reprints, [1970].


———. The Rights of Colonies Examined. Introduced and edited by Paul Campbell. Providence: Rhode Island Bicentennial Foundation, 1974.


———. A True Representation of the Plan Formed at Albany for Uniting All the British Northern Colonies, In Order To [sic] Their Common Safety and Defence [sic]: Containing Abstracts of the Authorities Given by the Several Governments to Their Commissioners, and of Several Letters From the Secretaries of State, and Lords Commissioners for Trade and Plantations Concerning Such an Union: Together With a Representation of the State of the English and French Colonies in North-America, and the Said Plan of Union with the Doings of the Commissioners Thereon: and Some Remarks on the Whole. [Newport, R.I.: James Franklin, 1755].


Rhode Island. Governor (1755-1765: Hopkins). The Game Cock Readies to Strike: Abraham Whipple, Commander of the Schooner Game Cock, Receives Letters of Marque from Governor Stephen Hopkins, 1759. With an introduction by Bruce Campbell MacGunnigle. East Greenwich: Printed for the Society by Print Shops, 1993.


Stitt, Edward Walmsley. Stephen Hopkins, A Signer from Rhode Island. [N.p., 1959].