Gaspee

Virtual Archives
Captain Turpin Smith (1751-1835)

The Gaspee Days Committee at
www.gaspee.COM
is a civic-minded nonprofit organization that operates many community events in and around Pawtuxet Village, including the famous Gaspee Days Parade each June. These events are all designed to commemorate the 1772 burning of the hated British revenue schooner, HMS
Gaspee
, by Rhode Island patriots as America's 'First Blow for Freedom'
TM
. Our historical research center, the Gaspee Virtual Archives at
www.gaspee.ORG
, has presented these research notes as an attempt to gather further information on one who has been suspected of being associated with the the burning of the
Gaspee
. Please e-mail your comments or further questions to
webmaster@gaspee.org
.
Evidence implicating Turpin Smith:
From the mouth of fellow Gaspee raider Ephraim Bowen as quoted on page 14 of The Documentary History of the Destruction of the Gaspee -- by William R. Staples
The names of the most conspicuous actors are as follows, viz: Mr. John Brown, Captains Abraham Whipple, John B. Hopkins, Benjamin Dunn, and five others, whose names I have forgotten, and John Mawney, Benjamin Page, Joseph Bucklin, and Turpin Smith, my youthful companions, all of whom are dead, I believe, every man of the party, excepting myself, and my age is eighty-six years this 29th day of August, eighteen hundred and thirty-nine.

EPHRAIM BOWEN."
Robinson Revolutionary Fire: The Gaspee Incident, cites that this Turpin Smith from Providence was later a prominent shipmaster.

From: The Destruction of the Gaspee by Horatio Knox - 1908


For many years after the Revolution four survivors of the 'Gaspee' affair were conspicuous figures on all patriotic occasions in Providence, invariably appearing in Fourth of July parades. These four men were Turpin Smith, Ephraim Bowen, Benjamin Page, and John Mawney.

From: "The Jubilee Year: 1826, July 4th" by Henry A. L. Brown, in The Bridge, the newspaper of the Pawtuxet Village Association, Spring 2000
The four Gaspee veterans - Colonel Ephraim Bowen, Jr., Captain Benjamin Page, Colonel John Mawney, and Captain Turpin Smith - rode in "a splendid equipage, an elegant barouche drawn by four spirited white horses."
From: Williams, Catherine,

Biography of Revolutionary Heroes: Containing the Life of Brigadier Gen. William Barton and also of Captain Stephen Olney

. Providence, Published by the author, 1839, pp 19-24.
The names of those brave and resolute citizens, as far as they have come to our knowledge, are as follows:

Biographical Notes:
The name of Turpin Smith, so far as we know, is unique to himself and his sons, one of which died at 6 months age, and the other born in 1788 that we know nothing further about. Turpin must have been his real and legal first name, for he used it on his application in 1833 for a pension based on his service in the Revolutionary War.. Following convention at the time, Turpin was possibly his mother's maiden name.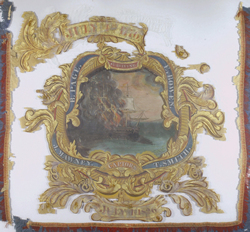 Right: 1826 parade banner depicting the burning of the Gaspee. Surrounding the picture are the names of the four then 'surviving captors' who participated in the raid who were being celebrated: B. Page, E. Bowen, T. Smith, and J. Mawney. Courtesy of RI Historical Society RHiX17317. Click image to enlarge.
RI Historical Cemeteries Database search shows only one possibility:
SMITH, TURPIN 1750c - 17 AUG 1835 PV003
He is buried at the Swan Point Cemetery in Providence. He would've been 21 years old at the time of his

Gaspee

shenanigans.

USGenWeb search show that during the 1790 Federal census of Rhode Island for Providence, there was:
Smith, Turpin 1-2-3-*-*
That is: himself, 2 males less than 16 years old, 3 females, no other freepersons, and no slaves. He also shows up in the 1810, 1820, and 1830 Federal censi in Providence, RI

Ships and Shipmasters of Old Providence, Providence Institution for Savings, 1920 p12 claims Turpin Smith was a "well known seafaring man." NEGHS records show that Turpin Smith was granted a pension in 1831 of $90, having been a 'Master's Mate' in the Navy. This is according to Vital Record of Rhode Island, 1636-1850, by James N. Arnold-- "List of Names on the Pension Roll of 1835". On the other hand, we can find no such record in the Revolutionary War pension files at HeritageQuest, at least not under the name Turpin Smith. Luckily we were able to pay $37 to the US National Archives who dutifully (and promptly) sent along the pension application papers of our Turpin Smith:


His pension papers (#S.21984) state that he had no surviving wife or children at the time he died in 1835. His will was solely executed by a Thomas Burgess of Providence. He claimed his birthday as 4April1751. He states that "he was one of those who took and burnt the British tender Gaspee in Narragansett Bay in June 1772." Turpin Smith served a total for one year between 1779 and 1780, first as a Master's Mate beginning in June 1779 for seven months aboard the Rhode Island Navy frigate [probably the sloop-ed] Providence, Commodore Abraham Whipple. While aboard the Providence, the ship and two others met up with a British transport fleet and took 10 prizes, of which 8 were sailed into Boston. He then served about five months aboard the Massachusetts Navy ship Protector, 20 guns, Captain John Foster Williams. He was engaged in action on the Newfoundland Banks in both ships, probably to disrupt British and Canadian fishing expeditions in that area. The Protector met up in that vicinity with a British privateer commanded by an Admiral Duff, which blew up when her magazine exploded. In amended pension application Smith claimed that Master's Mate was a rank equivalent to the more modern term of "Sailing Master" and should be accorded the rank equivalent of a Lieutenant in the Navy. He was apparently illiterate as he signed his pension applications with an x mark. He pension applications were attested to by Stephen Wardwell, Deacon, and Henry P. Franklin, merchant, of Providence in 1832, and later by Samuel Young and Thomas Clarke who were both clergymen from Providence in August 1833. Turpin Smith was noted to be both blind and hard of hearing at the time of his application in 1832.

The NEGHS database portal to Early American Newspapers gives us several ancedotes. In 1791 Turpin Smith was in command of a brig out of Providence that sank near Hispanola, all crew were saved. In 1792 he advertised for sale a dwelling house and store on Union Street in the West End. In May 1794 he had sailed into Providence from Bermuda. In January 1799 he commanded the brig

Sally

out of Providence. Between 1803 and 1813 he advertised for sale at his store next to Dr. Benjamin's near the west end of the Great Bridge, an assortment of crockery, glassware, and cheeses. According to the

Providence Phenix

of 14June1806 a new street leading northward from Weybosset Street and between the houses of Captain Turpin Smith and Captain Bowler was to be called Union Street (this article is a great source of early street names in Providence). In 1816 he began advertising a house and apartments for lease at Union and Broad Streets on the West Side. In 1822 Turpin Smith's crockery business had ceased and the location became the site of a shoe store. Finally, his short obituary was published 22Aug1835 in the

Newport Mercury

and probably other newspapers.
Genealogical Notes:
LDS file search is totally negative for Turpin Smith.
Gendex search turns up nothing, zippo, on a Turpin Smith and even nothing suspicious on the more common name Turner Smith.
www.Whipple.org search is not helpful for either Turpin Smith or any variation
Searches of www.google.com gives us nothing new except what we have posted here.
Ancestry.com reveals that there was a William Turpin Smith 1786-1789 and another born c1800 both in VA
From the 1770 List of Providence Taxpayers, we do get a large list of Smiths of the time:


Smith Abial XI D 4
Smith Abram XI C 4
Smith Charles' Widow VI B 5
Smith David XI B 5
Smith Edward III A 1
Smith Henry see Job Smith & Sons VI B 6
Smith Job VI A 6
Smith Job & Sons Distillery House VI B 6
Smith John III A 2
Smith John VI B 3
Smith William III B 1
Smith William VI B 6
Smith Street VI A 6 Still exists as Route 44



The Smith Distillery is of high interest, since we know many of those involved in the raid on the Gaspee were members of families involved in the Triangular Trade of slaves for molasses for rum for slaves.

The name Smith also pops up in a search elsewhere on the Gaspee Virtual Archives among other Gaspee raiders. Thomas Swan apparently married a Smith at some point in order to be considered the uncle of Bishop Smith. Benjamin Page's mother was Alice Smith. John Brown married his wife, Sarah Smith, in 1759. Also, we note that Gov. Stephen Hopkins married his second wife, Ann Smith, in 1755, and a Benjamin Smith owned a shipyard in Pawtuxet Village during the times.

But it turns out the the brother of Gaspee raid leader John Brown's wife Sarah is Job Smith (b: 24 SEP 1736), owner of the distillery.

And we also get a list of the family name of Turpins from the 1770 List of Providence Taxpayers:


Turpin Sarah VI D 3
Turpin Farm VI B 2 a large farm located north of the Mosshassuck River
Turpin Tavern VI C 3 aka "Old Turpin House"



We also note, curiously, that the Turpin Farm is located just north of, and adjoining to, the tract of land owned by John Smith, as was a Turpin Tavern est in 1685.

From NEGHS databases we find that Turpin Smith married Ruth Rhodes (widow of Samuel) on 3Oct1782. From Ancestry.com we do get a name on Turpin Smith's wife, Ruth, and five of his offspring:

Harriet Smith b 9 Sep 1784, m1. 1806 to Thomas Matthewson, m2 1817 to John Matthewson
Turpin Smith b 04 Jun 1786 d 17 Dec 1786 @ 6 mo old
Turpin Smith b 09 Mar 1788
Richard Smith b 25 Feb 1789 d June 1820 on a voyage from Savannah GA to Portsmouth NH
Christopher Smith b 14 Nov 1793 - d 19 Dec 1793 @1 mo old
?Cyrus Smith b c1806 d 10 Feb 1839 @ 33 yrs, kin listed as Turpin & Ruth Smith
Note that it was common at the time to recycle names of children that had died in infancy. As noted above in Turpin Smith's pension application of 1832, all of his family had deceased by that time. Nothing is found on Ruth Rhodes or Samuel Rhodes in the LDS site.

If we believe in guilt by association, then James Sabin, who owned the Sabin Tavern where the Gaspee raiders met to plot the details of the attack on the Gaspee in June 1772, married his second wife in August 1772 by the name of Anna Bicknell (1754), whose mother was named Martha Turpin (1718-1785), daughter of William TURPIN (1690-1743/1744) and Catharine JENCKES (1694). William Turpin was apparently a wealthy merchant in the Attleboro-Providence area. William and Catharine Turpin had ten kids, of which, seven were female.
John TURPIN b: abt 1713 in of Providence, RI
Elizabeth TURPIN b: abt 1715 in of Providence, RI m ______ SMITH
William TURPIN b: 1716 in of Providence, RI
Martha TURPIN b: 1718 in of Providence, RI m1 Eleazer METCALF; m2 Japhet BICKNELL
Catharine TURPIN b: 25 Oct 1719 in Scituate, RI m John HOPKINS
Joseph TURPIN b: abt 1722 in of Providence, RI
Anne TURPIN b: abt 1724 in of Providence, RI
Ester TURPIN b: abt 1725 in of Providence, RI
Lydia TURPIN b: abt 1728 in of Providence, RI
Mary TURPIN b: abt 1730 in of Providence, RI
We don't know who the other four daughters married, if they did. It is highly likely that the Turpin Smith we seek is the offspring of Elizabeth Turpin (1715) and this _____ Smith. Since Elizabeth was born in 1715 in Providence, we can assume she married Smith sometime around 1735, and would've been available to have the offspring of Turpin Smith c1750. Birth and death records show that there were two children born with unlisted first names of a William Smith and Elizabeth Smith on 12 Aug 1755 and 02 Nov 1756, one of which died on 20 Nov 1759. 12 Aug 1755 as a birthdate would make Turpin Smith 16 years old at the time of the Gaspee attack; young, but within the range of what Ephraim Bowen described as "my youthful companions".

Whipple.org does list several William Smiths born in Providence during the first half of the 18th Century. There are also 4 or 5 Elizabeth Smiths listed with no or incomplete dates in the RI Historical Cemeteries Database. Unfortunately, there are many inconsistencies in the genealogical trees, so we have little to do until the Smiths and Turpins work out their trees with some accuracy before proceeding further.

A search of RIGenWeb does give us a William Smith's name, amongst others that petitioned the Rhode Island assembly for the establishment of a school in Providence in 1770, to wit:


Messrs. John Jenkes, Moses Brown, John Brown, David Harris,

William Smith

, John Updike, Knight Dexter, Ebenezer Thompson, Joseph Lawrence, Zephaniah Andrews, Elijah Bacon, Noah Mason, John Smith, Jonathon Ellis, Jonathon Hamman, Thomas Greene and James Lovett

A John Smith was listed as a member of General Assembly from Providence c1773-1777.


Using broad assumptions, we recognize Turpin Smith that burnt the Gaspee was probably the son of William Smith and Elizabeth Turpin Smith
The Gaspee Days Committee recognizes Turpin Smith as a true American patriot for his role in attacking the HMS Gaspee in 1772.
Back to Top | Back to Gaspee Virtual Archives