Evidence implicating Joseph Jencks:
From: State of Rhode Island and Providence Plantations at the End of the Century, A History, edited by Edward Field, Boston, Mason Publishing Co., 1902 Vol. I. p. 467.
The names of only a few of these who took part in the night's work have been handed down. In the different accounts which have from time to time appeared the following names have been ascertained: Capt. Samuel Dunn, Capt. Benjamin Page, Capt. Turpin Smith, Capt. John B. Hopkins, Joseph Bucklin, Captain Shepard, John Brown, Abraham Whipple, Ephraim Bowen, John Mawney, Captain Harris, Joseph Jencks, Justin Jacobs, Simeon H. Olney, Joseph Tillinghast.
Unfortunately for us, Joseph Jencks is the single name that Field gives as 'ascertained', but for which he does not give a reference, probably by oversight. But we do find his name listed also by
Williams, Catherine, Biography of Revolutionary Heroes: Containing the Life of Brigadier Gen. William Barton and also of Captain Stephen Olney. Providence, Published by the author, 1839, p21.
The names of those brave and resolute citizens, as far as they have come to our knowledge, are as follows:

Captain Benjamin Dunn, John Brown,
Captain Benjamin Page, Com. Abraham Whipple,
Captain Turpin Smith, Colonel Ephraim Bowen,
Captain John B. Hopkins, Dr. John Mawney,
Joseph Bucklin, Captain Harris,
Captain Shepard, Joseph Jenckes,
As Edward Field pointed out we can only guess were she got this information. Catherine Williams was referring to people she knew had taken part in the attack on the Gaspee many years before.
Biographical Notes:
In genealogical research there are name variations to be considered here of Jencks, Jenckes, Jenks, and Jenkes, and we have seen all of them used to refer to the Rhode Island families. Interestingly, an ancestor, Joseph Jencks of 1661-1740, was a Colonial Governor of Rhode Island. Since there are the spelling variations, we have to use all of them in searching the databases. However, we'd suspect that the late Governor got it right on his tombstone, so the Gaspee Virtual Archives will standardize on Jencks, which also is the spelling used by both Williams and Field in naming Joseph Jencks as a Gaspee raider. On the other hand, the school in Pawtucket named after the late Governor (or his father, the founder of Pawtucket) is spelt Joseph Jenks Junior High School. An ancestor of the Jencks family who originally emigrated from England is credited with inventing the first fire engine. From: The Culture of Invention in Boston <http://edison.rutgers.edu/latimer/cultinvt.htm>
In 1659, Joseph Jencks, a Boston metalworker (formerly from Hammersmith, England), developed an early version of the fire truck, which he called "an Ingine to carry water in case of fire."
RI Historical Cemeteries Database search shows three candidates:
JENCKES, JOSEPH 1729c - 14 NOV 1793 LN018 Jenckes Lot in Lincoln, RI
JENCKS, JOSEPH -- PW009 Gov. Joseph Jencks Lot in Pawtucket-(no longer exists)
JENKS, JOSEPH 1742c - 17 FEB 1821 PW001 Mineral Springs Cemetery in Pawtucket
But only the one with indeterminate dates has the exact spelling variation of Jencks found in our source. This Joseph Jencks with no dates is presumably a separate person from the Governor since the Governor is listed with dates (1656-1740), and in the same plot. He was Governor between (1727-1732) and he married Martha Brown, so the whole lot are intermixed. Lincoln, RI was split off in the late nineteenth century from the town of Smithfield, a suburb Northwest of Providence. The Joseph Jencks Plot in Pawtucket has been rediscovered and is explained in detail on the Preservation Society of Pawtucket website at <http://www.geocities.com/pepa3.geo/Jenks/josjnkjr.htm

Link stale 2010

>

According to 1776 census records provided by the Providence Preservation Society, the household data for the Joseph Jenckes home on Benefit Street was 11 white and 7 black members.


USGenWeb search show that:
During the 1790 Federal census of Rhode Island, there was: (males>16/ males<16/ females/ other freepersons/ slaves) from Smithfield:

Jenckes, Joseph 3 1 10 * *
Jenckes, Joseph 3 * 4 * *

and from Cumberland:

Jenckes, Joseph 1 1 3 * *
From the RevWar pension files at HeritageQuest available through the NEHGS website, we discover pension record #26701 granting a pension to Leydia Jenckes for the service of her deceased husband Joseph Jenckes as a private in the Revolution. This Joseph Jenckes was the son of David Jenckes of Cumberland, RI, from where Joseph enlisted in Jan1776 into Capt. David Dexter's Company of Colonel Lippitt's Regiment of RI troops. He served 3 months as a corporal, then in 1777 served several months in Capt. George Peck's Company, and 12 months as a private in Capt. Caleb Carr's Company of Colonel Grey's Reginent, and was discharged 15Mar1779. In July 1781 he served one month as a private in Capt. Amasiah Weatherhead's Company. He married Lydia Dexter, the daughter of Andrew Dexter of Smithfield, RI 3Dec1779 and died 19Nov1816. This fits the profile for Joseph Jenckes #5 in the genealogical list below, but nothing is said in the pension file that specifically ruless this man in or out of being a

Gaspee

burner.

On 5Jul1765 a Joseph Jenckes, blacksmith of Cranston, RI purchased property in Warwick, RI. In 1811, a barn belonging to a Joseph Jenckes of Smithfield, RI was struck by lightning and burned.

In the

Providence Gazette

31Dec1791 was an ad for Jenckes, Winsor & Company advertizing sales in their millinery store, Joseph Jenckes and David L. Barnes Proprietors. A Joseph Jenckes was a bankrupcy commissioner in Providence in 1801, and under the oversight of Hon David L. Barnes, Judge of the District Court of RI......hey, wait a minute, that's also the name of his former business partner. Well, this was (and is) Rhode Island., after all! In 1802 Joseph Jenckes was appointed Town Counsel (solicitor) of Providence, so we assume he was a lawyer. He was also appointed a director of the Providence Library in 1803. An ad in 1805 lists house lots for sale on Benefit Street nearby the residence of Joseph Jenckes,

Esq'rs

. This makes us think that this Joseph Jenckes and a son Joseph Jenckes, Jr may have entered into a law practice practice together. He was advertizing real estate in 1816. On 9Feb1816 there appeared a notice of the dissolution of the firm of Joseph Jenckes & Company, Joseph Jenckes and Israel Peck, proprietors. The 23June1818 edition of the

Rhode Island American

gives notice that Joseph Jenckes and his son had moved to a large tract of land they purchased in Indiana with other family members. Alas, he didn't enjoy it there much, for the

Rhode Island American

of 2Apr1819 publishes an administrative notice for the estate of late Joseph Jenckes, Esq. by the Court of Probate for North Kingstown, and administered by John Jenckes through Thomas Burgess, Esq. of Providence. In 1820 a notice was made that Joseph Jenckes, deceased, had been replaced as a member of the Corporation of Brown University. In 1826, the heirs of Joseph Jenckes created a house lot development called Jenckes Street extending from their father's house on Benefit Street.

In the spelling variation of Jenks, there appears an ad in the

Rhode Island American

of 29Jun1813 of the dissolution of the partnership of Williams & Jenks, Joseph Jenks and Levi Williams, Proprietors.

The Jencks family name crops up in our files from time to time, but not otherwise a Joseph.
From: Revolutionary Fire: The Gaspee Incident by Natalie Robinson <http://www.gaspee.org/Revolut2.htm>:
Daniel Jenckes - Chief Justice of the Inferior Court of Common Pleas for Providence County. The day after the Gaspee burning, he advised Andrews and Sessions to attend to the matter immediately. If they did this, he felt nobody could blame Rhode Island's civil officials for approving or permitting the attack.

From: Charles Carroll's Rhode Island: Three Centuries of Democracy, 1932 <http://www.gaspee.org/3Centuries.htm>:
The General Assembly, in July <1764>, appointed Governor Hopkins, Daniel Jencks and Nicholas Brown a "committee of correspondence" to "confer and consult with any committee or committees that are or shall be appointed by any of the British colonies upon the continent of North America, and to agree with them upon such measures as shall appear to them necessary and proper to procure a repeal of the . . . sugar act . . .

From: The History of the State of Rhode Island and Providence Plantations: Biographical, by the American Historical Society, Inc., 1920.
Nicholas Brown married (first) May 2, 1762, Rhoda Jenckes, daughter of Judge Daniel Jenckes, and they were the parents of ten children. Mrs. Brown died December 16, 1783,and Mr. Brown married (second) Avis Binney, a daughter of Captain Barnabas Binney. He died suddenly, May 29, 1791.
From the 1770 List of Providence Taxpayers, we have the following names:
Jenckes, Daniel -- III B 4 East Side of Providence
Jenckes, Daniel & Co.-- XI C 4 North of the East Side of Providence
Jenckes, John -- III B 4 East Side of Providence
We also note that the first wife of Governor/Chief Justice Stephen Hopkins was born to a Silverman Scott c1665 and Jeanna Jencks. Nicholas Brown, brother of Gaspee raiders John and Joseph married a Rhoda Jenks in 1762. Also, we find that known Gaspee raider, Robert Sutton, had a daughter Hannah than married an Anthony Jenckes. And tavern owner James Sabin's second wife was the daughter of a William Turpin and Catharine Jenckes (1694). We also know that Gaspee raider Benjamin Page was also related to the Jenckes family. We also not that there was a fellow Gaspee raider with the name of John

Jenckes

Kilton.


There was a Benjamin Jencks, Eseck Jencks, and a Captain Eleazor Jencks all in a North Providence muster of 1777 military census. North Providence is a town just to the west of Pawtucket, the hometown for many of the Jencks and Jenckes clan.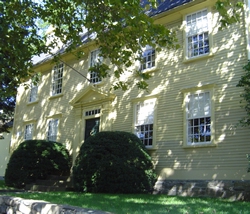 According to Bayles, Richard M. History of Providence County, Rhode Island, New York, 1891, p205, Joseph Jencks was appointed to the 1775 Providence committee to collect and distribute firearms (for War preparedness) and his house actually served as an armory for one-third of the Town of Providence's distribution of firearms. At left, this house (1773) still stands at 43 Benefit Street, according to the PPS/AIAri Guide to Providence Architecture 2003, but the placard on the house says John Jenckes. We also surmise that Joseph's daughter, Joanna (Jenckes) Barnes lived at 49 Benefit Street, but that hasn't helped our genealogical search, as no databases have a Joseph Jenckes with a Joanna daughter of the right time periods.


Left: The gambrel-roofed Joseph Jenckes House (1774) at 43 Benefit Street is on all the historic tours of the area.


The Providence Preservation Society was of help here, when answering our query on the Joseph/John Jenckes House. The PPS historic survey indicates that John Jenckes purchased the land from Joseph Whipple in 1773. They also found a passage in John Jenckes' 1790 will, to wit: "Further it is my will that in the division of my real estate the dwelling house where my son Joseph Jenckes now lives together with the lot of land on which same stands--shall be set off and assigned to my son Joseph Jenckes, his heirs and assigns forever." According to the PPS records, Joseph passed away in 1825 leaving the property to his 5 children. His three sons then sold their shares of the property to Joseph's two daughters, Mary and Hanna.

Joseph Jenks appears in a 1796 list of investors in the Ohio Company as published in Hulbert, Archer Butler, ed., The Records of the Original Proceedings of the Ohio Company (Ohio Company Series, Volume 2) (Marietta, Ohio: Marietta Historical Commission, 1917) pp. 235-242. <http://www.genealogy-quest.com/collections/ohco.html Link stale 2010>. His name appears along with many other men known to have been associated with the Gaspee Affair, including: Abraham Whipple, Samuel Adams, John Brown, Theodore Foster, Welcome Arnold, and John Mawney, and many familiar family names of Gaspee raiders as well. We know that Abraham Whipple went on to become a founding father of Marietta, OH. Joseph Jencks also appears on a list of directors for the Providence Library along with known Gaspee raider Joseph Tillinghast and others of like ilk.
Genealogical Notes:
LDS combined with Gendex combined with Whipple.org file search:
Joseph JENKS or JENCKS (Abt 1714) of Pawtucket, RI
Parents: (Judge) William JENCKES and Patience SPRAGUE
This Joseph had a sister Susanna who m Joseph Bucklin <http://homepages.rootsweb.com/~edburton/fam01642.htm> This Joseph Bucklin was the father of the Joseph Bucklin that fired the shot wounding the commander of the HMS Gaspee in 1772.


Joseph JENKS or JENCKES (1714-1784) in Pawtucket, RI, died in Smithfield, RI

Parents: John Jencks and Hannah Boomer
Spouse: m1 Sarah King (dau of John & Elizabeth King); m2 in 1760 to Sarah Moon-King (1720) who had previously m Isaac King (1711-1757) in 1741

In September 2008 we received the following e-mail from a descendant, Lourdes Jones, to wit:



In reviewing my files on my 4th great grandfather, Joseph Jencks, who was born in 1714 at Pawtucket, Providence County, Rhode Island and died on May 25, 1784 in Smithfield, Providence County, Rhode Island, I truly believe he is THE Joseph Jencks who was a member of the raiders that burned the "Gaspee." It completely fits his personality and his feelings about the British at the time. He was the son of John Jencks, physician and Hannah Boomer Jencks and his grandfather was Joseph Jencks III, Colonial Governor of Rhode Island.

My reason for feeling this is that although he has been dismissed as being "too old" because he was 58 years old at the time of the Gaspee incident on June 10, 1772 (which I would also), he actually served during the Revolutionary War yeas as a Captain of a Company of Minutemen at Smithfield in October of 1775, and later was appointed in March of 1776 to a committee to procure arms and "accoutrements" also for Smithfield. All of his remaining sons, Samuel, Boomer and Caleb (my 3rd great grandfather) all joined up and served as well and all four men came marching home after their service was finished.



Despite the heroic service to our country of this Joseph Jenckes, we must disagree with the assertions that this was the Joseph Jenckes that helped burn the Gaspee for reasons listed below, unless new evidence is discovered otherwise.


Joseph JENCKES (1729-1793) in Pawtucket, RI
Parents: William JENCKES (1700) and Anphillis SMITH (1704) or Esther TINGLEY
Spouse: Susanna Wilkinson (1729)
Children: 8 starting in 1756, no Joseph among those listed. Lived in Smithfield, RI. This is the paternal nephew of the Joseph Jenks #1. (He did have at least one daughter named Mary b1760 in Pawtucket, but no Hanna or Joanna found., and if he died in 1825, he'd have been 96)


Joseph JENCKES (7 NOV 1740-17 FEB 1821)
Parents: Nathaniel JENCKES b: ABT 1720 and Catherine SCOTT b: ABT 1720
Marriage 1 Sarah TINGLEY b: 9 SEP 1744 in

Rehoboth

, , Massachusetts who died 1Dec1825
Married in 1760 in Rehoboth. 12 Children born in Providence, RI
Was in 1784 in Capt. Wall's Company from Coventry, RI
Was a member of First Baptist Church in Providence.
Had 8 children, one of which was Joseph Jenckes b 4Mar1785
He did have a brother, John b 1727


Joseph JENCKES (1758), in Cumberland, RI,
Parents: David Jenckes (1739) and Martha Whipple (1739)
Spouse: Lydia Dexter m 1762
Children: 8 starting in 1768


Joseph JENKS (Abt 1759) in Providence, RI
Parents: Zachariah JENCKES and Deborah OLNEY


Joseph JENCKES b23Jul1748
Parents: Benjamin (b1713 and in 1782 a clothier in Tiverton, RI) and Abigail
According to William B. Brown, Genealogy of the Jenks Family of America

(Concord, NH: W.B. Browne, 1952, 771 pgs.)




Either of the Joseph Jenckes' of 1758 and 1759 would have been only 13 years old at the time of the Gaspee attack, and that would stretch the imagination. But we are intrigued that the Joseph Jenckes of 1758 mother's maiden name was Whipple, and the other one Olney. Note that NONE of the above searches match the Providence Preservation Society records that indicate Joseph Jenckes, most likely of our concern, had John as a father, Mary, Hanna, and possibly Joanna as a daughter, and who died in 1825. All of our research indicates that the people involved in the raid lived or worked on the dockyards area of Providence (or Bristol) on the night of June 9th, 1772. The truth is, we do not know anything much about the Joseph Jenckes we most highly suspect, and he probably is not on our compiled list of the seven of which we know the dates of birth and death, so we cannot give that honor to a different Joseph Jenckes simply by default. Anyway, we conclude that we aren't sure of which Joseph Jencks, of whichever spelling, is our man, but the most logical is the Joseph Jenckes of 1740-c1820 based on his prominence and domicile in Providence.